Meet Australia's New Prime Minster, One-Time Attack Dog Scott Morrison
(Bloomberg) -- Scott Morrison described himself as one of the "new generation" in his first address as Australia's new prime minister.
For voters who've watched the revolving door of leadership from both sides of politics over the past 11 years, any attempt by the stalwart of the Liberal Party's right faction to sell himself as a fresh face will be met with a degree of exasperation. The former finance chief will have to reinvent himself to stand a chance of leading the government to victory in elections due by May.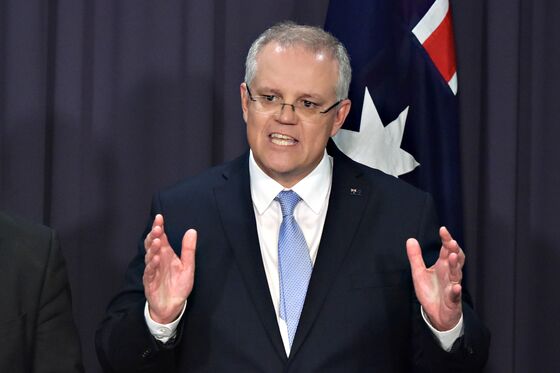 Morrison, who was sworn in Friday after a week of political turmoil saw Malcolm Turnbull ousted by his own party, has by his own admission always aspired to be leader and embraced each portfolio he's been given on his way to the top. But in his role as a government attack dog, he's sometimes left colleagues and the voting public cold.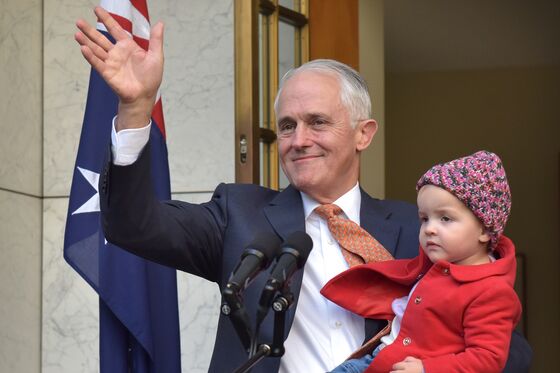 "While we don't know what sort of a leader he will be, Scott Morrison is a very good politician," said Paul Williams, a political analyst at Brisbane's Griffith University. "He's good on policy, good on media, good in parliament, good in the Cabinet. He ticks all the boxes -- except resonating well with voters. That's usually a treasurer's curse, so he needs to sell another side of himself now."
The 50-year-old has been a lawmaker since 2007. The evangelical Christian, whose seat is based in one of the country's most socially conservative and least multi-cultural areas, has had a high-profile since 2013 when he became a hard-line immigration minister who oversaw the off-shore detention and processing of asylum seekers.
He also dealt with Australia's sprawling welfare sector as social services minister -- and had a tough job trying to gain the support of minority lawmakers in the upper house for cuts to benefits. Since September 2015, he's been the country's treasurer, overseeing an economy that's now gone 27 years without a recession.
The Sydney Morning Herald in 2016 described his political career as being "pock-marked with overweening ambition, the use of others as stepping stones, and some glaring lapses of judgment."
In a country where the debate over climate change and clean energy has brought down several political leaders -- including Turnbull -- Morrison has been unequivocal in his support of Australia's traditional power source.
He famously brought a lump of coal into the parliament in February 2017. "This is coal," Morrison shouted across the chamber. "Don't be afraid. Don't be scared. It won't hurt you. Those opposite have an ideological, pathological fear of coal."
As treasurer, it hasn't all been plain sailing, despite a stable economy. In the midst of this week's leadership turmoil, the upper house rejected the government's company tax cuts for large businesses. He was forced to abandon A$13 billion ($9.5 billion) of savings measures last year amid opposition in a hostile upper house -- adding to a stubborn budget deficit that had jeopardized the nation's AAA credit rating.
Most analysts don't expect a significant change of direction under a Morrison-led government, particularly regarding ties with its biggest trading partner, China.
While he blocked a Chinese bid for electricity network Ausgrid and an iconic cattle company with vast tracts of land, that was out of "genuine concern" about foreign ownership of strategic assets, according to Richard Holden, a professor of economics at the University of New South Wales Business School in Sydney.
Morrison, who has often spoken of the strong relations between the two nations, understands the importance of foreign investment in Australia, said Holden.
But he'll soon face one of his first big economic and foreign policy challenges, after this week banning China's Huawei Technologies Co. and ZTE Corp. from supplying next-generation wireless equipment to the nation's telecom operators. That drew immediate ire from the Chinese government, which said it was "gravely concerned" by Australia's actions.
"That's a decision which is going to have quite some significant ramifications, not just in Australia but around the world, and certainly for the Australia-China relationship," Andrew Parker, Sydney-based Asia practice leader at PwC's Australian unit, said by phone. "That's going to be a very significant test for Scott Morrison."
Morrison was born in Sydney's eastern suburbs, attended a top state school and earned an Honors degree in Applied Economic Geography at the University of New South Wales. He is married with two daughters and lives in Sutherland Shire -- an area in Sydney's south that was the scene of a race riot in 2005.
After graduating, he held management positions in the Liberal Party and the nation's tourism industry. He worked on the internationally successful "100% Pure New Zealand" campaign.
The "Where the bloody hell are you?" campaign in 2006, when he was head of Tourism Australia, which brought former swimsuit model Lara Bingle to prominence, was less of a hit. In it Bingle uses the colloquialism to ask foreign audiences why they aren't in Australia. The advertisement caused confusion abroad where many countries couldn't understand the question and was also initially banned in others for using an obscenity.
His Christianity has been a constant throughout his career. "My personal faith in Jesus Christ is not a political agenda," Morrison said in his maiden speech to parliament. "In recent times it has become fashionable to negatively stereotype those who profess their Christian faith in public life as 'extreme' and to suggest that such faith has no place in the political debate of this country."
Still, his time at the top may well be short-lived. Before this week's political carnage, the government was polling 10 points behind the main opposition Labor Party. It's unlikely to draw any new support from a voting population that's lost respect for its parliamentarians.
So can Morrison lead the Liberal-National coalition government to victory in the next election? David Burchell, a senior politics lecturer at Western Sydney University, doesn't think so.
"As of right now, not a chance in hell," Burchell said.