Enbridge Sweetens Deal to Buy Spectra for $3.3 Billion
(Bloomberg) -- Pipeline giant Enbridge Inc. agreed to buy all outstanding shares of Spectra Energy Partners LP in a sweetened deal aimed at streamlining its corporate structure in the wake of U.S. tax changes.
The agreement to acquire its master limited partnership is valued at $3.3 billion, based on the closing price of Enbridge shares in New York trading on Thursday. It follows a proposal in May that failed to include a premium for Spectra unitholders.
Under this latest offer, Spectra investors will receive 1.111 shares of Enbridge stock for every Spectra unit. The improved deal comes after regulators in July made major concessions on a tax policy change that led companies from Williams Cos. to Energy Transfer Partners LP to ditch the MLP model -- a structure often used to own pipelines carrying oil and natural gas.
Enbridge "bent" to the softened tax change by offering a 9.8 percent premium to its initial offer, MUFG Securities Americas Inc. analyst Barrett Blaschke said by telephone. "They're expecting the changes to be less impactful than they were" originally thought to be.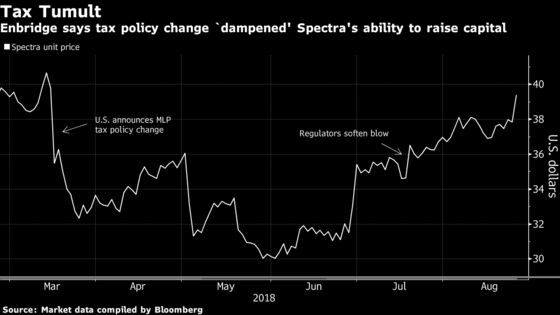 Pipeline MLPs plummeted in March after regulators stripped the partnerships of a key tax benefit. With lower unit prices, many pipeline companies said it was increasingly difficult to raise money for new projects via the public market.
Enbridge on Friday cited a "significant weakening" of the MLP capital market as adversely affecting partnerships' ability to fund growth projects, including for Spectra, which the Calgary-based company acquired two years ago for $28 billion. That deal created the largest energy pipeline and storage company in North America.
"The sponsored vehicles really don't have a good runway here," Enbridge Chief Executive Officer Al Monaco said on a call with analysts earlier this month. "The ability for the vehicles to grow, at least in our view, has been dampened and compromised."
"The magnitude and timing of the revised deal terms should be viewed as a slight positive" for Spectra, Raymond James & Associates Inc. analysts said in a note to clients. While the latest offer was better than the last, they reminded Spectra unitholders that they'll still likely get dinged by "holder-specific tax consequences" as part of the deal.
Bank of America Merrill Lynch and Scotiabank were financial advisers to Enbridge, while Jefferies LLC acted as financial adviser to Spectra's Conflicts Committee. The transaction is scheduled to close in the fourth quarter of 2018.