Billions Pour in While Records Wait to Be Smashed: Taking Stock
(Bloomberg) -- S&P 500 futures have been steadily climbing all morning as we continue to hold court close to the January closing high. Volumes as a whole have dawdled as we've gotten deeper into the month of August, and today should be no different.
That said, we have a couple of macro items to digest this morning, including the wait ahead of Fed Chair Jerome Powell's 10am speech at Jackson Hole and the conclusion of the low-level trade talks between the U.S. and China -- which, depending on which media outlet or blog you peruse, were either lacking any progress (as baked in by the market), constructive, or a complete bust.
Equity flows remain in favor of the U.S., as regional funds saw inflows of $4.1 billion (according to EPFR Global data) versus the 24th straight week of net redemptions for those in Europe. Morgan Stanley notes that U.S. exchange traded funds inflected to ~$9 billion of inflows in the past week, driven by both equity and bond ETFs, which were partially offset by deteriorating outflows in mutual funds.
Sectors to watch include:
Trade proxies, specifically Caterpillar (worst performer in the Dow yesterday with a 2% drop), depending on how the market decides to interpret the reports regarding the culmination of U.S.-China talks
Tobacco stocks after a wary note from Jefferies on growth in reduced-risk products coupled with downgrades of the two U.S.-listed majors (more on this below)
Cloud companies on Splunk jumping >6% after "one of the largest beats in years," according to Deutsche Bank, (total revenues for the second quarter rose 39% y/y while cloud revenue soared 90% y/y); recall shares took a hit last quarter after softer-than-expected billings
Design software names with Autodesk rising almost 8%; Morgan Stanley says this was "finally the clean beat we've been looking for" as annual recurring revenue accelerated to 28% y/y growth (vs Street estimate 25%) and net sub adds of 119k topped the consensus view of 114k
Apparel retailers after a weak report from Gap, which slumped >7% on a comp. sales miss for the namesake brand, and not-good-enough results from Ross Stores, whose expectations were elevated after TJX's recent strong print
Sporting goods stores after smallcap name Hibbett Sports is looking at an awful day (currently indicated with an ask of ~$25.25 versus Thursday's close of $29.40) after cutting its EPS forecast well below the Street estimates; the company cited continued softness in licensed, equipment and accessories business during the second quarter. Foot Locker is also trading lower this morning after its own miss on comp. sales.
While tech was the sole sector in the green yesterday -- thanks to a three-day bouncing streak for the semis (led by AMD, which is up ~15% in the past week with Rosenblatt most recently pumping the name after investor meetings) -- the 15-handle peak-to-trough decline in the SPX that took place mid-morning coincided with a ~6.5% reversal in Alibaba ADRs.
So why did the largest member of the BAT complex (the others being Baidu and Tencent) take such a harsh spill well after its conference call ended? It's not really clear even today, and the reasons that were passed around trading desks (some of them straight up speculation that I'd be embarrassed to repeat in this column given how far-fetched they sounded) never amounted to much.
I'd venture to guess that it was a mix of 1) another batch of earnings-related dumping, as we saw with both Tencent and Baidu after their prints, 2) further selling in a crowded group whose gap continues to widen against its FAANG peers in the U.S., 3) profit taking in the best-performing BAT name year-to-date given the recent negative sentiment for the complex, 4) technicals, given the shares immediately retreated the second they got within a hair of the 200-day moving average (see chart below), and 5) the few-and-far-between negatives pulled from post-earnings notes of the 48 sell-siders who cover the name, of which 47 have a buy rating and none have a sell, such as near-term profit growth concerns due to investment in new initiatives and disappointing customer management revenue.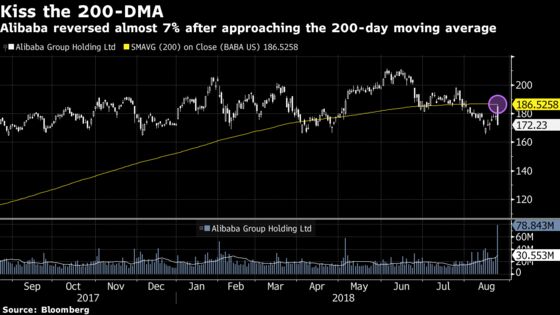 The end of August, which flows through to the three-day Labor Day weekend, brings a mix of economic data (notably July PCE, August Chicago PMI, and a couple housing data points), another batch of earnings, and more trade noise, as the most recent U.S.-China talks have wrapped up while the latest round of Nafta negotiations are now seen spilling into next week.
Earnings for the week will continue to focus on the retailers with the backdrop that this may be the strongest consumer environment in decades (according to the Target CEO, who technically claimed this to be so for his entire 37-year career). Reports in the space include Lululemon, Best Buy, PVH Corp., Tiffany, Guess?, Chico's, American Eagle, Abercrombie & Fitch, and a couple of the dollar store names.
Outside of retail, we'll also get results from tech megacap Salesforce.com, which is toying with all-time record levels at the moment (see first chart). In addition, tax services company H&R Block will report after a record plunge on the prior quarter's print, though it's had an impressive two-month recovery ever since (see second chart). And Campbell Soup will release numbers just weeks after activist Third Point took a stake in a push to get the company to sell itself.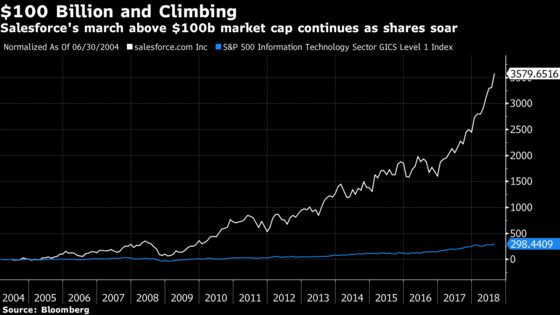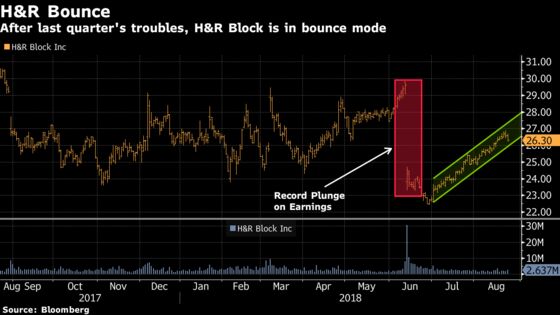 Notes From the Sell Side
As mentioned in the "sectors to watch" section, the tobacco sector may be under pressure today after Jefferies downshifted its expectations for reduced-risk products (now seen reaching 40% market share by 2026 vs prior estimate of 50%-60%). In turn, the firm downgraded both Philip Morris and Altria to hold from buy.
JPMorgan's Ann Duignan cut Cummins to an underweight (after maintaining a neutral rating for more than a decade, according to Bloomberg data) on downside risk in 2019+ to revenue and JV income while R&D investments are expected to rise as "the company needs to develop and commercialize increasingly complex, new technology drivetrains to meet the needs of its customers who are exploring alternatives to diesel."
SunTrust lifted Netflix to a buy (though the price target drops to $410 from $415) after the recent pullback as 3Q domestic and international subs are "solidly in-line/ahead" while, more importantly, the initial original series in India is "resonating quite well."
Credit Suisse slashes Janus Henderson Group to an underperform (now the second equivalent sell among 12 analysts) on net flow headwinds, a significant increase in expenses in the back half of the year, and the fact that Dai-ichi may be done buying shares now that its ownserhip has crossed the 15% minimum target.
UBS moves SecureWorks to a sell after its ~53% rally year-to-date has led to shares trading at a 35% premium to the IT services peer group: "With new customer growth flattening, decelerating growth trends in monthly recurring revenue, and stubborn revenue retention trends, we are skeptical profitable growth can be achieved."
Tick-by-Tick Guide to Today's Actionable Events
7:00am -- QD earnings call
8:00am -- Fed's Bullard on Bloomberg TV
8:30am -- Durable Goods
8:30am -- UBNT earnings
9:00am -- FL earnings call
9:05am -- Fed's Mester on Bloomberg TV
9:30am -- Fed's Kaplan on Bloomberg TV
9:30am -- CI shareholder vote on ESRX deal
10:00am -- Fed Chair Powell to speak at Jackson Hole
10:00am -- ESRX shareholder vote on CI deal
10:00am -- HIBB, BKE earnings calls
11:00am -- UBNT earnings call
12:55pm -- Tiger Woods tees off at The Northern Trust
4:10pm -- Fed's Bostic on Bloomberg TV