Autodesk Surges After Rosy Forecast Boosts Investor Confidence
(Bloomberg) -- Autodesk Inc.'s shares climbed to a record after several analysts raised their price targets on renewed optimism over the software maker's transition to a cloud-based subscription model.
The company "hit the trifecta by beating" estimates on annual recurring revenue, net subscription additions and average revenue per subscription, JPMorgan Chase & Co.'s Sterling Auty wrote in a note. Analysts at RBC Capital and Oppenheimer on Friday raised their price targets for the stock to $163 and $175, respectively.
Autodesk's shares rose 15 percent to $157.20 at the close Friday in New York, the biggest single-day increase in almost 15 years. The shares have jumped 50 percent this year.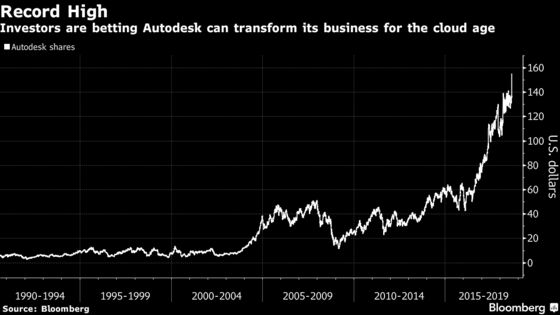 The San Rafael, California-based company on Thursday gave an earnings forecast for the fiscal year that topped analysts' average estimates. Annual profit excluding some items could be as much as 95 cents a share, Autodesk said. That compares with analysts' projection of 90 cents, according to data compiled by Bloomberg. The high end of the sales forecast for the current quarter and fiscal year also topped Wall Street expectations.
Autodesk, which makes software for the architecture, mechanical design and animation industries, has been moving from traditional programs that users paid for upfront to subscription services accessed over the internet. Like software vendors such as Microsoft Corp. and Adobe Systems Inc., Autodesk's shift to this cloud-based approach helps boost its recurring revenue. Still, the company, founded in 1982, has about 2 million license holders who haven't upgraded.
"People are seeing the results they expect to see, and it's actually giving us some room to talk about what we're trying to do with the company long term," Andrew Anagnost, Autodesk's chief executive officer, said Friday in an interview on Bloomberg Television.