Pfizer's Next Blockbuster Drug Has Big Promise. We'll Find Out Monday How Much.
(Bloomberg) -- Pfizer Inc. has promised good news next week. Depending on how good it is, the largest U.S. drugmaker could see its scorching summer stock run extended, or it could come to a screeching halt.
A highly anticipated presentation slated for Monday at the European Society of Cardiology Congress in Munich will reveal full results from a late-stage study on tafamidis in a rare, fatal condition called transthyretin cardiomyopathy.
The drugmaker said back in March that its Phase 3 trial was a success, but analysts and investors have been waiting for more clinical data to gauge just how impressive it was. It'll be a "home run" if the medication is effective in keeping patients alive and out of the hospital and if it met other endpoints like how far patients can walk after treatment, Deutsche Bank analyst Gregg Gilbert wrote.
Practice-changing data for the potential blockbuster drug may push shares above their recent 16-year high, analysts say. And not only are billions on the line for Pfizer -- it could be a seminal moment for drugmakers focused on expanding in-house research. Pfizer shares edged higher by 0.3 percent at 10:00am to $42.18 in New York after initially opening lower.
"This could validate Pfizer going into these more unique diseases and is important in a lot of ways for the company," Credit Suisse analyst Vamil Divan said by telephone. But "this is more than just the data for the large-cap pharma sector. A strong readout will give Pfizer a boost and help the broader group by improving sentiment on their in-house innovation."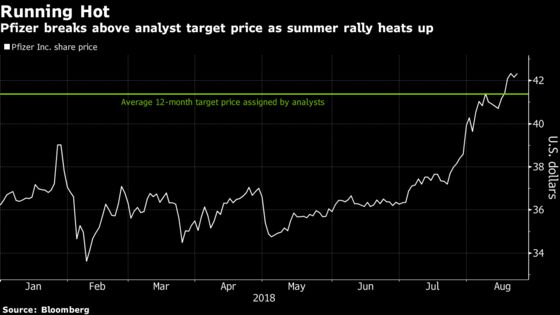 Even if the patient benefit is more modest, a physician cited by Gilbert said he would still prescribe tafamidis given the lack of treatment options, according to an Aug. 21 note.
The number of patients affected by the rare disease remains murky, according to doctors and analysts, given its under-diagnosed nature. If approved and properly marketed, the theoretical market size could be well into the billions of dollars, Gilbert said. He projects the drug could make it to the U.S. market in 2020, with sales of $1 billion by its fifth year.
Wall Street's high expectations may overshadow what physicians are hoping to see and would deem as practice-changing, Divan wrote in an Aug. 21 note. Investors are looking for the treatment to help keep patients alive and out of the hospital by up to 25 percent more than those on placebo, nearly twice what doctors are expecting, he said.
The presentation may give investors a sense of how small-cap biotech Eidos Therapeutics Inc.'s rival lead asset, AG10, will perform in a mid-stage trial of its own. Skeptics including Nomura's Christopher Marai have harped on negative implications for Alnylam Pharmaceuticals Inc.'s recently approved Onpattro, given a drug label that applies to a smaller population of patients.
Ionis Pharmaceuticals Inc. and its affiliate Akcea Therapeutics Inc. have also developed a drug for transthyretin amyloidosis. Tegsedi, which operates in a similar way to Alnylam's Onpattro, won European approval in July and awaits a U.S. decision by Oct. 6.