San Miguel Seeks $2.67 Billion in Sale of Food-Unit Shares
(Bloomberg) -- San Miguel Corp. is seeking as much as 142.8 billion pesos ($2.67 billion) selling shares of its food and beer unit in a deal that would be the biggest Philippine stock offering on record.
The country's largest company plans to offer as many as 1.02 billion shares of San Miguel Food and Beverage Inc. in the fourth quarter at an indicative price of 140 pesos each, it said in a Thursday stock exchange filing. Shares rose 15 percent today in Manila to close at 92.10 pesos, the highest since 2012, valuing the stake at as much as 93.9 billion pesos ($1.8 billion).
San Miguel Food -- which recently absorbed its parent's beer and hard drinks ventures -- aims to price the stock Oct. 19, followed by a public offer from Oct. 23 to Oct. 29, according to a prospectus filed to the securities regulator.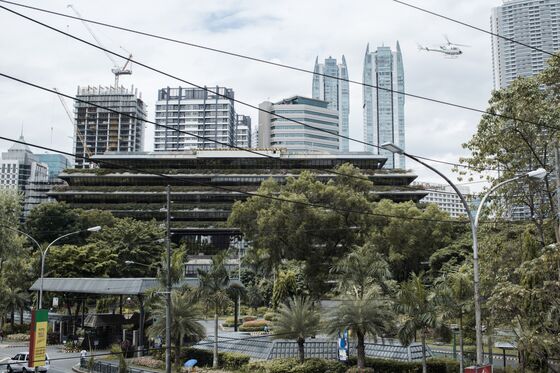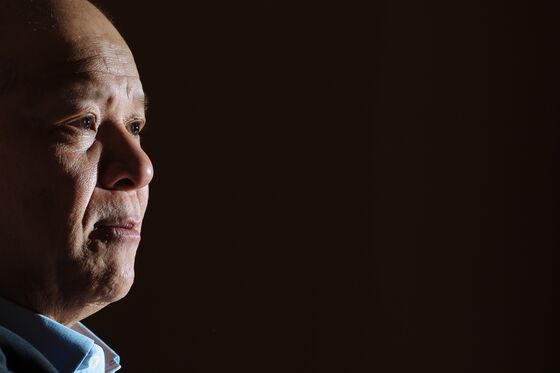 "Only this kind of company can go out in a volatile market," San Miguel President Ramon Ang said Wednesday in his office in Metro Manila. A share sale at the indicative range would give the unit a market value of about $15.8 billion, compared with the $10.2 billion valuation at Thursday's close.
At the indicative price, the deal would be the largest-ever stock offering in the Philippines, according to data compiled by Bloomberg. The so-called re-IPO of billionaire Lucio Tan's holding company LT Group Inc. raised about $912 million in 2013, currently the country's largest such deal, excluding rights issues, the data show. BDO Unibank raised $1.24 billion last year in the country's biggest rights offering, according to the data.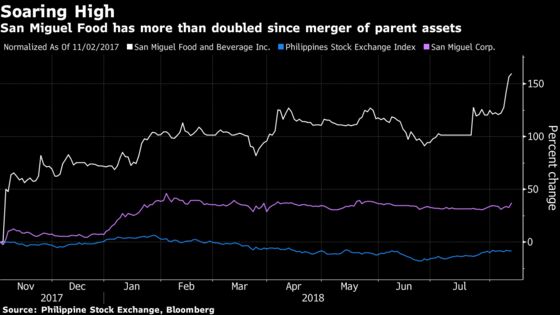 The planned sale of as much as 17.3 percent of San Miguel Food could boost its public float above 20 percent. The number of shares available for trading is currently at 4.1 percent of the total, below the 10 percent regulatory requirement.
Shares of San Miguel Corp. rose 8.6 percent to close at 160 pesos, after surging as much as 13 percent to the highest on record. The Philippine benchmark stock index rose 2.3 percent, its biggest gain in nearly two months, with San Miguel leading gainers.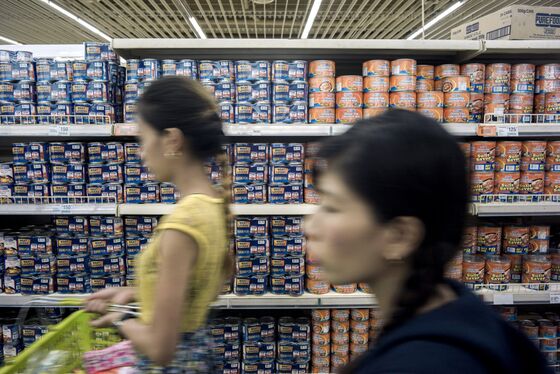 "Expect further price run-up for San Miguel Food as the follow-on offer approaches and the stock to reflects its true value after the sale and the shares are listed," said Rachelle Cruz, an analyst at Manila-based AP Securities Inc. "It will be in San Miguel's interest to sell the shares at a high price as it needs the proceeds to fund its infrastructure venture."
JPMorgan Chase & Co., Morgan Stanley and UBS Group AG are global coordinators on the share sale, while Deutsche Bank AG and Goldman Sachs Group Inc. are joint bookrunners, according to the prospectus. BDO Capital & Investment Corp. and BPI Capital are local lead underwriters.
San Miguel plans to use the proceeds for expansion and acquisitions, including a $14 billion airport project it aims to build north of the Philippine capital.
The conglomerate has also offered to expand an expressway project with a 3.5-kilometer (2.2 miles), 10 billion-peso connection to one of the capital's main highways to help ease traffic, Ang said. President Rodrigo Duterte is pushing a $170 billion building program to ease the worsening logjam in roads and ports and spread growth in the provinces.
San Miguel, which started as Southeast Asia's first brewery in 1890, eight years before the Philippines declared independence from Spain, has diversified into oil, power and infrastructure in the past decade to boost revenue by more than five fold.
"We've never sold our original business and kept it intact from day one," Ang said, referring to its food and beer businesses. "It's now time to discover and realize its value."