Let's Talk Market Crash Just as Records Get Broken: Taking Stock
(Bloomberg) -- S&P 500 futures are right at the flat-line following relatively lackluster equities sessions around the world.
Individual stock moves are few and far between, aside from Alibaba (as the best house in the crowded "BAT" neighborhood year-to-date gains ~3% in early trading, or a 180-degree turn from Tencent's horror show last week), a couple of consumer names like Hormel (falling >6% disappointing top-line forecast) and Williams-Sonoma (zooming up ~7% on results; more on this below), and Chinese ADR Qudian (slumping as much as 20% at one point on a terminated partnership with Ant Financial).
Trump's interview on Fox has been airing all morning -- here's a gem: "I think, if I got impeached, the market would crash" -- and will continue to do so until 9am, according to one of the President's tweets last night, though not the one about the "large scale killing of farmers" in South Africa that sent the rand southward against the dollar.
Meanwhile, headlines over the various trade disputes involving the Trump administration should make some noise today and for the near future until 1) a joint communique between the U.S. and China is made available once the Malpass-as-savior talks conclude and 2) some sort of deal is struck on a new Nafta pact.
The former situation is a bit tricky given that the next round of tariffs on $16 billion of each nation's exports to each other took effect at the stroke of midnight. The latter is also very fluid, as what was reported by Politico to be a potential "handshake" deal as early as today remains up in the air due to a number of obstacles. One hold-up, according to our reporting, is Trump's proposed auto tariff that might backfire if it hinders Mexico and Canada's chances of making the necessary concessions to strike a deal.
And a day after Target's CEO said this was possibly the strongest consumer environment he has seen in his 37-year career, we get Williams-Sonoma keeping the hot streak alive for the retailers with a huge beat and Nordstrom (+2.2%) setting a new $1.5 billion buyback just days after its own strong result. Don't mind L Brands (-6.1%), as its crushing outlook for the following quarter shouldn't spoil the party, given its abysmal performance already this year (down 46% YTD into the print, or the worst in the S&P 500 Retailing index by a wide margin).
The longest bull market was confirmed by most measures Wednesday. And if Wall Street is to be believed, as long as we don't encounter a 20 percent downdraft in the last trimester of the year, this bull has a long way to go. The median forecast of strategists tracked by Bloomberg sees the S&P 500 index at 2950.00 by year end. That equates to an additional 3 percent from Wednesday's close, and a nearly 10 percent return on the year. The biggest bull, Canaccord's Tony Dwyer, sees an extra 12 percent tacked on from here.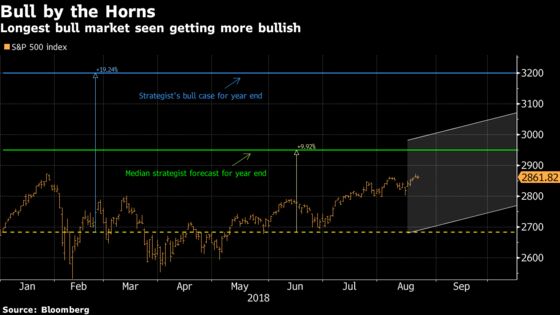 Homebuilders' Bounce Stalls Out
In Tuesday's Taking Stock, housing was in focus after Toll Brothers' results surprised to the upside, adding to sentiment from the prior week's better than expected housing starts data. After the results lifted the entire segment, traders saw an opportunity to fade that move Wednesday when the existing home sales data poured cold water on the rally, adding to views flagged by Wells Fargo that affordability in housing was becoming an issue. Low-end builders have clearly been the beneficiary of the trend in recent years, despite luxury's recent outperformance. The next piece of the July data puzzle arrives at 10:00am with new home sales figures.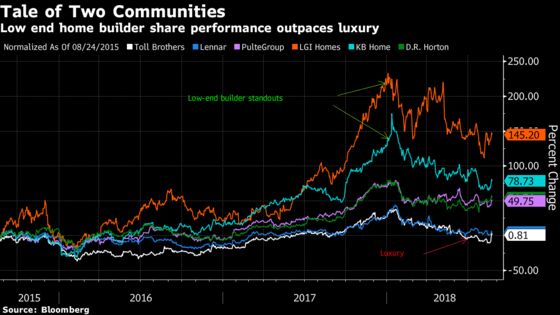 Notes From the Sell Side
UBS's teardown experts noted numerous quality issues with Tesla's Model 3, confirming media reports and adding that these are "disappointing for a $49k car."
Telsey boosts Target to an outperform and matching the Street-high price target of $100 (after Baird lifted their numbers yesterday) after one of their main concerns of EBIT dollar declines for six consecutive quarters was alleviated. Elsewhere in consumer, Keybanc upgrades Tempur Sealy to an overweight on the expected closing of ~1,000 Mattress Firm stores, a potential 48c EPS tailwind and reduced competitive dynamics.
Piper Jaffray upgrades Acacia Communications to an overweight on improving overall demand for optical and leadership in the upcoming 400G cycle.
Goldman removes its sell rating from Nielsen to incorporate an M&A component in the stock almost two weeks after a report said Elliott Management will push for the company to sell itself.
Tick-by-Tick Guide to Today's Actionable Events
Today -- Fed's Jackson Hole conference kicks off
7:00am -- PLCE, FLWS earnings
7:30am -- ECB publishes account of July policy meeting
7:30am -- SAFM earnings
7:30am -- BABA earnings call
7:54am -- Tiger Woods tees off at The Northern Trust
8:00am -- CIBC (CM CN), PLCE earnings calls
8:10am -- TSN CEO Tom Hayes on Bloomberg TV
8:30am -- Initial Jobless Claims
8:30am -- TTC earnings
9:00am -- FHFA House Price Index
9:00am -- HRL earnings call
9:45am -- Markit PMIs, Bloomberg Consumer Comfort
10:00am -- New Home Sales
10:30am -- EIA natgas storage
11:30am -- Trump participates in roundtable on the Foreign Investment Risk Revie Modernization Act
2:30pm -- Trade town hall with Wilbur Ross in Fargo, N.D.
4:00pm -- INTU, IMMU earnings
4:01pm -- ADSK, ROST earnings
4:02pm -- SPLK earnings
4:05pm -- HPQ, VEEV earnings
4:15pm -- VMW, GPS, GLOB earnings
5:00pm -- VMW, HPQ, GPS earnings calls