HP Projects Profit in Line With Analysts' Estimates
(Bloomberg) -- HP Inc., the world's largest personal-computer maker, fell after projecting earnings in line with analysts' expectations as it struggles with thin profit margins in its main business.
Profit excluding some items will be 52 to 55 cents a share in the current quarter, the Palo Alto, California-based company said Thursday in a statement. Analysts on average projected 53 cents, according to data compiled by Bloomberg. HP shares declined more than 3 percent in extended trading after closing at $24.63 in New York. The stock has gained 17 percent this year.
Chief Executive Officer Dion Weisler has been working to increase sales and profit in a stagnant, low-margin industry after HP's separation from Hewlett Packard Enterprise Co. It's cutting as many as 5,000 workers by 2019 to lower costs, while revamping its product lineup and developing new ways of selling.
Pricier HP computers for gamers and businesses have propelled the company to the top of the PC industry, but that's not a very profitable place to be. The operating margin of the company's Personal Systems division, which includes PCs, was 3.9 percent in the fiscal third quarter.
"Expenses are going to be higher than what people were expecting," said Anand Srinivasan, a Bloomberg Intelligence analyst. PC rival Lenovo Group Ltd. "is doing better now than before, so there may also be some more pricing pressure."
Lenovo recently reported a 19 percent jump in quarterly sales. The Chinese company has narrowed HP's lead after it took over a venture with Fujitsu Ltd. and made headway of its own in higher-margin gaming machines.
HP said on Thursday that sales rose 12 percent to $14.6 billion in the period ended July 31.
"We've done the hard work of taking cost out of the business while accelerating," Weisler said in an interview. "Almost one in four machines around the world have an HP logo on it. That means there are three of four computers I can still go after."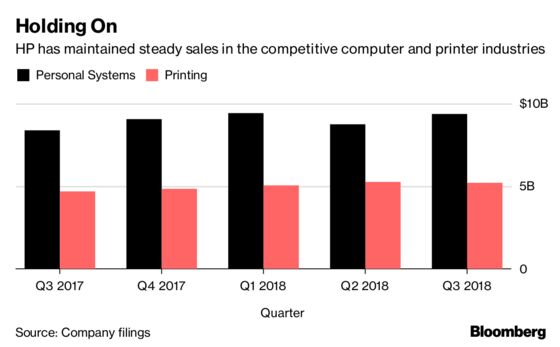 HP's printing business performed better, notching a 16 percent margin, with ink sales and services contributing. The company projected full-year cash flow of $3.7 billion and raised its fiscal 2018 adjusted profit outlook to a range of $2 to $2.03 a share. Analysts estimated $2 a share. Profit in the most-recent period was 52 cents a share, excluding certain items.
The company is trying other ways to grow revenue. It offers maintenance on companies' tech gear including office copy machines and has an ink delivery service. There's also a device-as-a-service business that lets businesses rent computers, which generates more recurring revenue. HP bought printing company Apogee Corp. earlier this month.
HP's head of 3-D printing, Stephen Nigro, will retire in early 2019 after more than three decades at the company, Weisler said on a conference call with analysts. Christoph Schell, HP's president for the Americas region, will take the job on Nov. 1, he added.
HP has developed a lineup of 3-D printers in a bid to enter the manufacturing industry. The business is still nascent, but Weisler said HP would soon bolster the efforts with a machine that can print metal objects.