Gaffe Aside, New York's Cuomo Rides High in His Bid for Re-Election
(Bloomberg) -- In another time or place, opposed by a different politician, New York Governor Andrew Cuomo might have found himself in a heap of trouble after making his audience gasp on Aug. 15 when he proclaimed America "was never that great."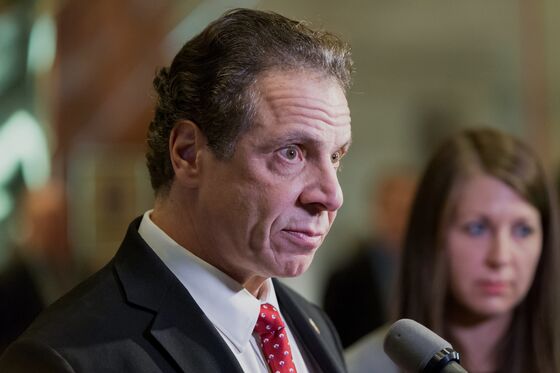 Trying to control the damage, Cuomo said he was merely being "inartful," questioning whether President Donald Trump's slogan, "Make America Great Again" takes into account a national legacy that includes racial and gender inequality. Still, Trump took advantage, telling his millions of Twitter followers that the comments were "totally dumb" and accusing Cuomo, 60, of having a "total meltdown."
Yet Cynthia Nixon, the "Sex And The City" actress who's challenging Cuomo for the Democratic nomination, has struggled to capitalize on the gaffe. Running an insurgent campaign on Cuomo's left, she was unable to disagree with his critique. At that moment when the incumbent was vulnerable, she merely told reporters he was trying to imitate her.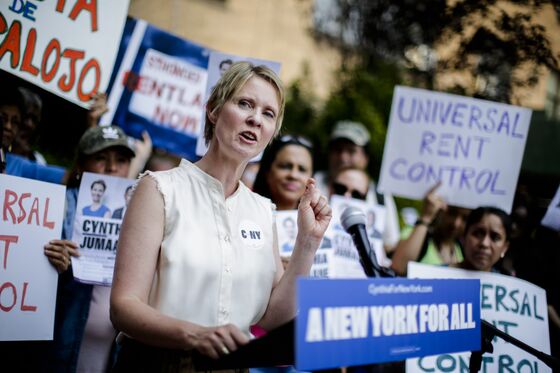 "For some reason she wasn't prepared and couldn't take advantage," said Democratic political consultant George Arzt, who was press secretary to former Mayor Ed Koch. "Yet, he committed a nuclear gaffe that could hurt him if he runs for president."
Nixon, 52, a political novice, already faces an uphill battle. Cuomo, whose father Mario was a three-term progressive Democratic governor, has played the game his whole life. He's a well-financed incumbent whose record includes one of the first gay-marriage laws, tough gun-control measures, a $15 minimum wage, paid family leave and all-day universal pre-kindergarten.
For Cuomo, the episode has drawn unwelcome national attention to a race in which polls show him leading Nixon 2-to-1. If Cuomo intends to use this campaign to catapult himself into a 2020 face-off against Trump, his verbal blunder may have given Trump just what he wanted to subject Cuomo to ridicule.
Cuomo's national ambitions already face challenges related to the cloud of scandal over his administration, with investigations of three former top aides culminating in federal corruption convictions. This week, the New York Times reported on 350 pages of emails wrested from the administration by court order that show how Todd Howe, a former Cuomo aide-turned-lobbyist, had access to top state officials. Howe cooperated in the federal investigation and pleaded guilty to eight felonies.
The corruption scandal and the now-famous gaffe will be used against the governor by his Republican rival, Marc Molinaro, who said Cuomo used an unpatriotic message to appeal to left-wing voters.
So far, Cuomo's vulnerability has had little impact on his re-election bid, even in a year with record numbers of women succeeding in politics. Nixon has shown few signs that she will match Alexandria Ocasio-Cortez's stunning June upset of 10-term U.S. Representative Joe Crowley. Ocasio-Cortez is among several progressives who have endorsed Nixon. Mayor Bill de Blasio, her longtime ally, hasn't.
Cuomo's $24 million campaign treasury dwarfs the $442,000 Nixon had as of Aug. 13. He's spent $7.9 million this year, much of it on market research, polling and television advertising. His target has been not Nixon, but Trump, as last week's misfired remark demonstrated. He's touted himself as "a progressive who gets things done."
As early as March, Cuomo conducted "a robust research project on what would the turnout be like and who the voters would be -- if the turnout was traditional or if it was a massive surge," said campaign manager Maggie Moran. "Our internal polls are consistent with public polls. This race has settled in."
Cuomo must still get through an Aug. 29 debate without more self-inflicted injury. In 2002, his description of former Governor George Pataki as Rudy Giuliani's post 9/11 coat-holder helped drive him out of a gubernatorial primary. More recently, he joked to a black church congregation that Jews can't dance, lectured a woman reporter on sexual harassment and urged another to let him watch her eat a sausage sandwich.
Nixon has tried to merge the pay-to-play accusations against Cuomo and his foot-in-mouth fiascoes into a narrative that compares Cuomo to the Twitter-happy president, in a state where Trump lost to Hillary Clinton by 25 percentage points. Recent federal convictions of three close Cuomo associates underscore the comparison, Nixon's supporters say.
"It doesn't matter that Nixon may be inexperienced," said Michael McKee, treasurer of a 1,200-member tenants rights political action committee. "Cuomo has always sided with landlords against laws protecting us against rent gouging and eviction."
At the Working Families Party, director Bill Lipton says the group now regrets backing Cuomo in 2010 and 2014, attracting well over 100,000 votes. Cuomo betrayed them by allowing Republicans to control the state senate through the Independent Democratic Conference, a now-disbanded group that aligned itself with Republicans to stymie the progressive agenda, he said.
"Polls don't measure intensity of support," Lipton said. "No one is enthusiastic about Cuomo. He's the kind of Democrat who caters to the wealthy."
Cuomo holds a 31-point advantage over Nixon, according to a July 26 Siena College poll. Among Cuomo's supporters, 83 percent said they're voting for him; of Nixon voters, 60 percent said they're against Cuomo. The findings run counter to the notion that a below-the-radar wave of enthusiasm will make Nixon a winner, said poll director Steven Greenberg.
"Cuomo is leading among young voters, black voters, women voters," Greenberg said. "She's got a tough uphill climb because Democrats like him, he has a lot more money than she does and he's got the governor's bully pulpit."
Nixon has had her own share of bad messaging. In May, she proposed that African-Americans get preference in setting up legal marijuana dispensaries as a form of "reparations" for past injustice. Black Lives Matter called it "a disservice to our community for her to play into harmful stereotypes." Black voters already prefer Cuomo to Nixon by 56 points, the Siena poll reported.
"Cuomo's name in the black community is very strong," said Kirsten John Foy, a Brooklyn pastor who's Northeast Regional Director of the National Action Network founded by Al Sharpton. "We see his work on gun control, the beginnings of state-college free tuition, his attacks on Trump."
Nixon spokeswoman Lauren Hitt says the enthusiasm gap can be measured in Nixon's 620,000 Instagram followers; Cuomo has about 41,000. Her posts attract thousands of "likes." Cuomo's can be counted by the hundred. Activist organizations have sent volunteers knocking on thousands of doors in minority neighborhoods around the state, Hitt said.
She's also attracted far more individual donations than Cuomo, Hitt said -- 32,669 for her and 2,244 for him, according to records from the New York state Board of Elections.
Yet when Cuomo uttered his Aug. 15 gaffe, he was surrounded by women's advocates. NOW-New York, Planned Parenthood and the National Institute for Reproductive Health each received $50,000 from Cuomo's campaign, and each endorsed him. The money came from funds held in escrow after donors became mired in scandal.
"He doesn't just talk about equality, he makes it happen," said NOW-New York President Sonia Ossorio as she introduced him to the crowd. Cuomo's Aug. 13 donation had nothing to do with her supporting him, she later said in an interview.
"I have worked with the governor for 10 years," she said. "He has been very responsive to all of the pieces of legislation we have wanted."