Deutsche Bank London Threatens to End Business With Russia
(Bloomberg) -- Deutsche Bank AG threatened to end business with Russia's government earlier this year in a letter sent to the state demanding that it provide more information related to know-your-customer records.
The lender's London branch sent the correspondence in June saying the business relationship could be terminated if Russia failed to submit the documents within 30 days. While that deadline has long since elapsed, Russia never answered the letter and the German bank hasn't followed up on the initial request, according to two people with knowledge of the matter.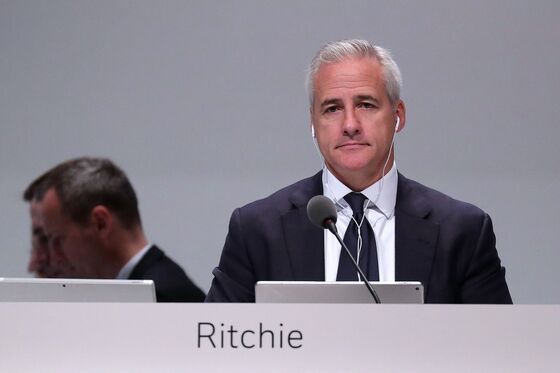 "Deutsche Bank is currently undertaking a review of the products that Government of the Russian Federation has with Deutsche Bank AG, London Branch and of the Know Your Customer documentation that we hold on record," investment-banking head Garth Ritchie and one of the bank's lawyers, Alex Scott-Gall, wrote in the June 27 letter that was seen by Bloomberg.
The letter to Russia was generated as part of a broader company-wide drive to improve KYC documentation, a person with knowledge of the matter said, adding 20,000 similar letters were sent. It's not clear if further action will be taken by Deutsche Bank, which last advised Russia on a Eurobond sale in 2013 and was picked to help on a state asset sale in 2014.
Deutsche Bank's KYC procedures have long been a source of concern for international regulators, with the lender recently admitting that its processes are too complicated. Last year, the bank was fined by U.K. and U.S. authorities for compliance failures that saw the bank help wealthy Russians move about $10 billion out of the country, using methods that the New York Department of Financial Services said could have facilitated money laundering.
Russia's Vedomosti newspaper reported on the letter earlier.
"Deutsche Bank's global compliance management system is geared to strict conformity with the law, and our KYC procedures are an important part of our overall compliance system," the bank said. "As with virtually any other bank, a standard part of our KYC procedures is to carry out regular formal reviews of all of our counterparties around the world."
Chief Executive Officer Christian Sewing recently appointed a new chief operating officer, Frank Kuhnke, whose responsibilities include improving Deutsche Bank's KYC procedures. He has changed the way the bank obtains this documentation from its clients, and the blunt way he sometimes goes about getting the paperwork -- for example by threatening to end business relationships -- has contributed to his moniker "Frank the Tank," according to two people familiar with the matter, who asked not to be identified.