China's Deposit-Hungry Banks Start to Get Fancy
(Bloomberg Opinion) -- China's banks have a deposit problem. For those outside the so-called Big Four lenders, there's just not enough to go around.
It's not an issue for the biggest. Industrial & Commercial Bank of China Ltd., Bank of China Ltd., China Construction Bank Corp. and Agricultural Bank of China Ltd. all share one thing: sticky, low-cost retail deposits.
Move down the pecking order, though, and the picture looks less rosy. Starting with the country's fifth-largest lender, Bank of Communications Co., or Bocom, smaller players – including China Minsheng Banking Corp. and Chongqing Rural Commercial Bank Co. – are struggling to compete for higher-cost deposits.
Under pressure to find reliable financing – to back corporate loans they were, until now, masking as investment receivables from wealth-management products – China's not-so-big lenders have been busy offering "structured deposits."
An article this week in The Wall Street Journal cited a 91-day structured deposit from Weihai Blue Ocean Bank, promising to offer 5.28 percent a year in interest if gold prices stayed between $300 and $2200 an ounce until maturity. These deposits are meant to tickle customers' penchant for gambling – and they're firmly aimed at China Inc. Companies no longer want to stash their surpluses in plain vanilla demand- and time-deposit accounts. Mid-size and small banks, which rely heavily on corporate funds, are clearly getting desperate.  
Beijing has tried to curb banks' enthusiasm for such exotica with limited success. Officials are trying to ensure that structured deposits are  "properly" pegged to derivatives products that are sold – under valid licenses – to real clients, according to the CBIRC. Meanwhile, some banks, heartened by lower funding costs in the interbank market, are shifting back to negotiable certificates of deposit – a product popular last year that lost favor as rising rates made them more expensive.  China's banking system had 8 trillion yuan($1.2 trillion) in these short-term interbank liabilities at the start of the year; by the end of July, that amount had risen to 9.1 trillion yuan, according to Moody's credit analyst George Xu.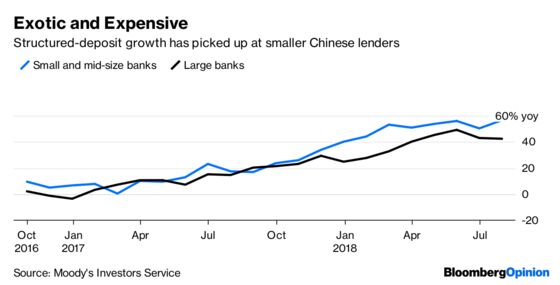 Yet for smaller and mid-size banks, structured deposits continue to steam ahead, growing 56.6 percent in July from a year earlier, the highest rate on record. Structured deposits remain an important part of the balance sheet for these banks, and have continued growing at a faster pace there than at large lenders.  
Together, structured deposits and certificates of deposit comprised only 2.4 percent of the deposit base of the Big Four last year, but as much as 8.8 percent for the mid-size ones, CGS-CIMB Securities analyst Michael Chang estimates. Two years ago, big banks had 2 percent of their deposits coming from such flighty (and more expensive) financing; mid-size banks' reliance was 5.6 percent.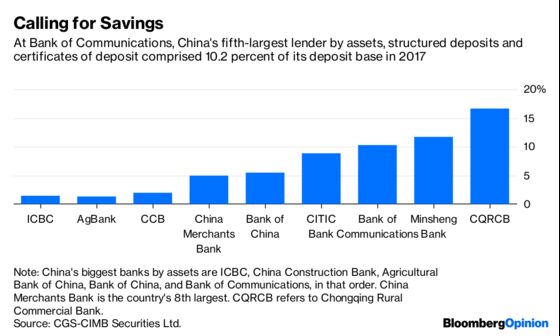 Deposits matter more than ever now because of President Xi Jinping's deleveraging campaign. As much as 96 percent of new credit in the first half of this year came from formal banking channels because of curbs on shadow lenders, Moody's Xu estimates. Unless banks can finance loans with cheap and stable capital or deposits, their profitability will be under pressure. Bocom's net interest margin has fallen steadily for the last three years, narrowing to as little as 1.8 percent on a trailing 12-month basis, according to a Bloomberg Opinion analysis of the lender's second-quarter earnings released Thursday.
In the past, whenever China slowed, investors would fret about banks' nonperforming assets. As the country braces itself for a trade war, their liabilities may be a bigger worry. 
This column does not necessarily reflect the opinion of the editorial board or Bloomberg LP and its owners.
Andy Mukherjee is a Bloomberg Opinion columnist covering industrial companies and financial services. He previously was a columnist for Reuters Breakingviews. He has also worked for the Straits Times, ET NOW and Bloomberg News.
Nisha Gopalan is a Bloomberg Opinion columnist covering deals and banking. She previously worked for the Wall Street Journal and Dow Jones as an editor and a reporter.