Alibaba's Exceptions Are the New Rule for Earnings
(Bloomberg Opinion) -- Alibaba Group Holding Ltd. posted solid top-line growth, yet operating and net income plummeted from a year earlier.
That's the simple summary of the Chinese e-commerce company's earnings for the June quarter.
A more complicated rundown includes lots of "ifs," "buts" and "excludings," as Alibaba pointed to in its earnings statement.
"We delivered another great quarter with 61% revenue growth as well as strong profit growth, excluding one-time items."
If not for Alibaba's consolidation of Ele.me and Cainiao Logistics, revenue would have climbed a mere 49 percent. That's not bad, but still the slowest in two years.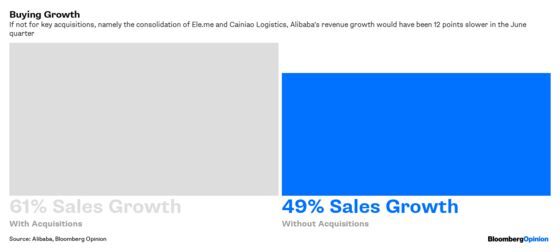 Strategic investments will continue, CFO Maggie Wu said in an investors' call late Thursday. So expect more purchasing of revenue going forward. 
Operating profit took a huge hit, dropping 54 percent to 8 billion yuan ($1.2 billion). Alibaba cited the cost of share-based compensation at Ant Financial, which it said increased by 11 billion yuan for the period. If not for that expense, operating income would have climbed 9 percent, it said.
I ran the numbers and determined that even without that parenthetical, operating margin would still have plummeted.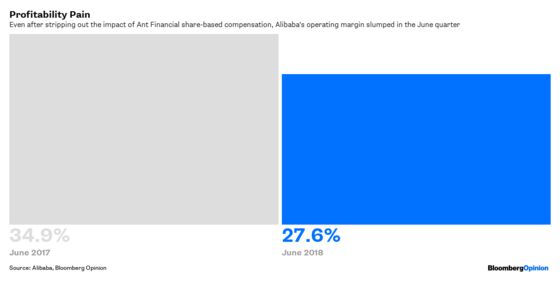 Investors should be warned that by Alibaba's own admission, this is not a one-off.
"We expect that our share-based compensation expense related to these awards will continue to be affected by future increases in the valuation of Ant Financial."
Also not isolated is the continued drag on earnings from Alibaba's push into new areas, such as cloud computing and entertainment. These divisions lost money a year ago, and they lost even more money in the latest quarter, with little sign that significant revenue growth is translating into any kind of economies of scale.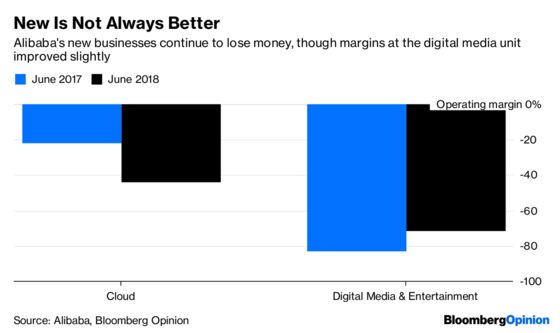 However, Alibaba does have one bright spot. Despite a relative slowdown in growth of annual active consumers in its China retail marketplaces — which it defines as anyone who shopped within the past year — revenue from China retail commerce climbed quite nicely. The implication is that Alibaba is extracting more money from each customer.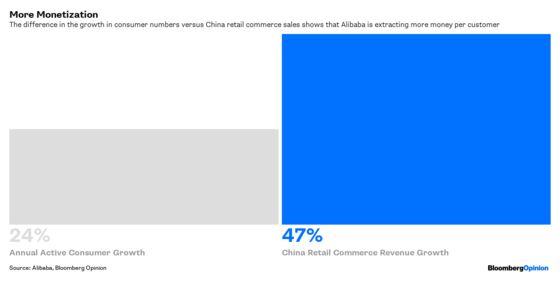 At the bottom line, adjusted EBITA margins took a heavy blow. New Retail (its offline foray), Cainiao, delivery unit Ele.me, and Southeast Asian investee Lazada were all cited as reasons for the decline.
"Excluding the effects of the above-mentioned long-term investments, our adjusted EBITA margin in the core commerce segment remained stable as compared to the same period last year," it said.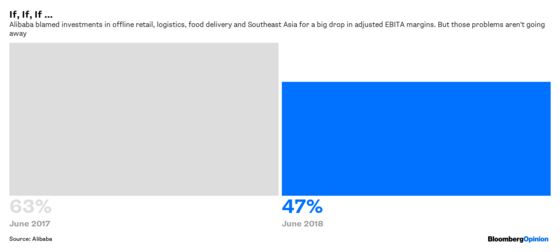 But those businesses aren't going away, nor are they about to deliver the same margins as the rest of the company, which means those effects aren't a mere one-off.
Alibaba spent a lot of time in its earnings release and investor call explaining all the reasons various line items were exceptions to the overall solid story of China's premier e-commerce company.
But as we all know, it's the exception that proves the rule.
This column does not necessarily reflect the opinion of the editorial board or Bloomberg LP and its owners.
Tim Culpan is a Bloomberg Opinion columnist covering technology. He previously covered technology for Bloomberg News.