Vodafone, CK Hutch Mull Merger for Lossmaking Australia Unit
(Bloomberg) -- Vodafone Group Plc and CK Hutchison Holdings Ltd. are considering combining their unprofitable mobile-phone business in Australia with broadband provider TPG Telecom Ltd. as intensifying competition forces rivals to consolidate.
Vodafone Hutchison Australia Pty and TPG Telecom Ltd. are in "exploratory" discussions, they said in separate statements on Wednesday. TPG, which had a market value yesterday of A$5.84 billion ($4.3 billion), described it as a "merger of equals."
TPG, after starting to build a domestic mobile-phone network of its own, soared in Sydney trading as investors bet a union with Vodafone Hutchison would be a less costly alternative. Former phone monopoly Telstra Corp. jumped on optimism the tie-up being discussed would avert a fresh price war with TPG.
"In the end, business sense has prevailed," Paul Budde, an independent telecommunications consultant based north of Sydney, said in an email. "It is a win-win situation for both companies," he said, referring to TPG and Vodafone Hutchison.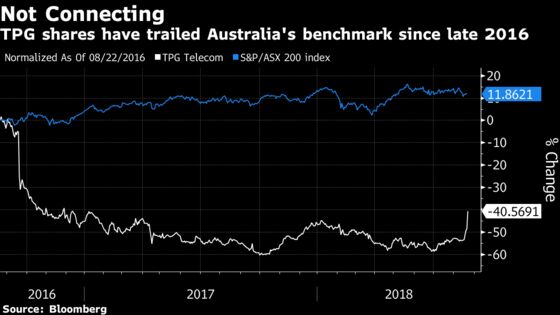 As competition intensified and handset costs rose, Vodafone Hutchison's loss widened to A$92.3 million in the six months ended June from A$81.5 million a year earlier, according to Hutchison Telecommunications (Australia) Ltd. filings. Average revenue per user at the joint venture fell 1.3 percent.
The company has a troubled history in Australia, where it has struggled to lose its nickname 'Vodafail' -- after its network gained a reputation for patchy coverage and dropped calls.
The tie-up would unite TPG, best known in Australia for its fixed-line broadband services, with Vodafone Hutchison's almost 6 million mobile customers. Should the combined entity be listed, a transaction would shed more clarity on the valuation of Vodafone Hutchison. That might help either party exit the venture after years of speculation that U.K.-based based Vodafone was looking to sell.
Vodafone's incoming Chief Executive Officer Nick Read inherits the challenges in Australia as remnants of an era of empire-building from his predecessors. As he battles a weak share price and a fragile dividend, Read may face the additional complication of dealing with U.S. activist investor Elliott Management Corp., which has built a stake in the world's second-largest wireless carrier, a person familiar with the matter said last month.
Read, who previously ran Vodafone's emerging markets and U.K. divisions, needs to decide how to exit far-flung units like Australia and India or turn the companies profitable. Vodafone is on the brink of completing a merger in India with Idea Cellular Ltd. to create that country's largest phone company, while also focusing on completing a $22 billion acquisition of German and Eastern European cable assets from Liberty Global Plc.
With Vodafone's share of the Australian unit's customers standing at under 3 million, the unit is much smaller than core divisions in Germany -- with more than 30 million customers -- and the U.K., with 17.5 million.
TPG soared 22 percent to A$7.65 in Sydney, expanding its market capitalization to A$7.1 billion. Vodafone Hutchison isn't publicly traded. Vodafone shares rose 0.4 percent to 176.78 pence at 10:04 a.m. in London.
Telstra, which is struggling to preserve profit margins in its fight with nimbler competitors, jumped 7.2 percent. Thinly traded Hutchison Telecommunications Australia Ltd. lept 52 percent.
It's not clear how any so-called merger of equals would be structured financially. But one ownership option being considered would see TPG with 50 percent of the combined entity and Vodafone and Hutchison with a 25 percent stake each, according to a person familiar with the talks.
There's no certainty of a transaction or what the terms might be, TPG said in its statement. Representatives for TPG and, CK Hutchison and Vodafone Hutchison declined to comment beyond the companies' statements.