Juggling Is the Key Skill in Sea's E-Commerce Future
(Bloomberg Opinion) -- Sea Ltd. wants to create a viable e-commerce business, and it might actually be in with a shot.
The Southeast Asian internet company formerly known as Garena started to report revenue from its online shopping business in the first quarter of 2017. Since then, gross merchandise value, or GMV, has more than tripled and revenue has climbed exponentially.
Sea's marketing budget has also escalated, however. In the second quarter the Singapore-based, U.S.-traded company spent 2.5 times more on marketing its e-commerce business than the revenue actually derived from it. That's not necessarily a concern – it takes money to promote a new business, and as long as all the metrics are moving in the right direction, there's no cause for alarm.
It's worth noting the scale, though. Sea has made $91.4 million in revenue from the unit since the final quarter of 2016, but spent $649 million to promote it.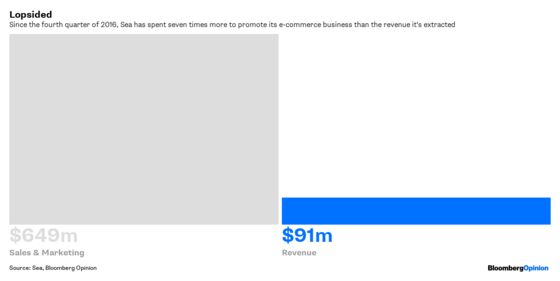 Sea points to climbing GMV as a defense of its marketing budget. Fair enough. But GMV climbed a mere 14 percent in the June quarter from the prior three-month period (the marketing budget also slowed). Thankfully, it's becoming better at monetizing that flow, and garnered $54.7 million in revenue. The proportion of transaction value that results in sales to the market operator is called the take rate, and Sea's climbed to 2.46 percent, which isn't bad.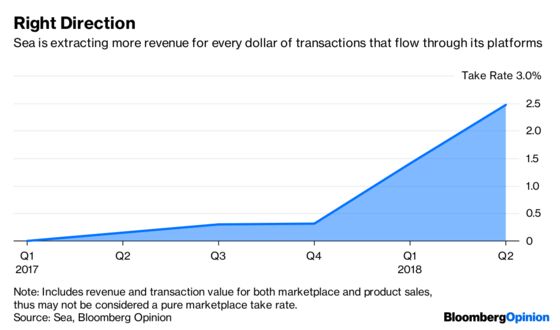 In the hardware business, we often look at gross margin as an indication of how well a company can mark up its wares, extracting value from the inputs that create a product. And remember, you still need to subtract other costs such as marketing and administration before you can get to the bottom line.
But for as long as Sea wants to publish GMV, I think the take rate will serve as a similar analytical tool to gross margin – with all my earlier caveats. To be clear, though, Sea lumps marketplace revenue and product sales together, so it's not a pure indication of how much money it makes from transactions that match external buyers and sellers.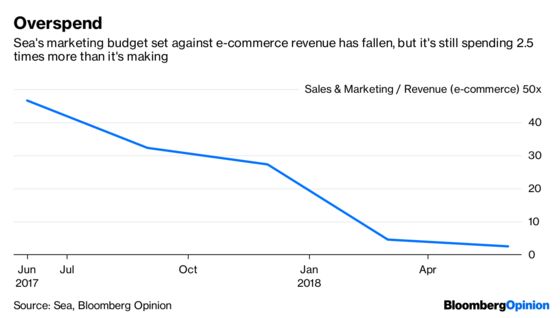 That said, to make e-commerce a viable business, Sea's take rate needs to be higher. How high is a tough question.
Obviously the marketing budget is too high, and Sea will have to start trimming it over the next few quarters. This could crimp top-line expansion, leading to a chicken-and-egg effect. If the company can extract more from each transaction – the take rate – then it can afford to keep that marketing budget at the high end. If not, more dramatic cuts in expenses will be needed.
Given its current growth trajectory, it appears Sea does have a chance of making it in e-commerce. The key swing factor will be how well it juggles those constraints to arrive at a profitable formula. 
This column does not necessarily reflect the opinion of the editorial board or Bloomberg LP and its owners.
Tim Culpan is a Bloomberg Opinion columnist covering technology. He previously covered technology for Bloomberg News.