Santos Bulks Up in Australia Via $2.15 Billion Quadrant Deal
(Bloomberg) -- Santos Ltd. agreed to buy fellow Australian oil and gas producer Quadrant Energy for at least $2.15 billion, boosting its domestic natural gas assets.
The deal will raise Santos' reserves by more than a quarter and annual production by nearly one-third, the Adelaide-based company said in a statement Wednesday. The two companies' assets overlap in Western Australia, providing synergies estimated at $30 million to $50 million a year, it said in the statement.
"Quadrant's core assets are a known quantity to Santos," said Saul Kavonic, Credit Suisse Group AG's director of energy research in Asia.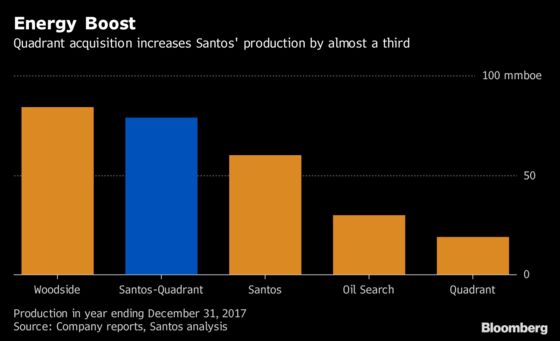 The deal to buy Quadrant, which is 36 percent owned by Brookfield Asset Management Inc. and 22 percent by Macquarie Group Ltd., will be fully funded from existing cash reserves and new debt, Santos said in its statement. Wesfarmers Ltd. holds about 13 percent.
To see more details about the funding of the deal and reserves, click here.
Santos will take on Quadrant's position in the Bedout Basin offshore Western Australia, where its Dorado find is estimated to be Australia's largest crude oil discovery since 1996. The deal will include contingent payments based on Dorado's certified reserves. Quadrant assets also include majority stakes in the Devil Creek and Varanus Island gas hubs, which Santos also holds stakes in.
Santos Chief Executive Officer Kevin Gallagher, on a conference call after the deal was announced, said the assets were low-risk and high-margin with stable cash flows.
"The strong cash generation of the Quadrant business should support Santos' ability to maintain its dividend policy," Minh Hoang, a credit analyst at S&P Global Ratings, said in a research note. Quadrant's inflation-linked contracts should provide cash flow diversity compared with Santos' existing oil-linked deals, he said.
Santos shares closed down 0.2 percent to A$6.27 on Wednesday before the deal was announced. The benchmark S&P/ASX 200 Index lost 0.3 percent.