S&P 500's New Record Has to Share the Spotlight: Taking Stock
(Bloomberg) -- The ink was barely dry on articles prognosticating variants involving the trajectory of the S&P 500 after 4 straight days of gains led to a new record high -- 2873.23 -- before the ink started to dry on a different milestone that sent overnight futures tumbling: near simultaneous court outcomes for President Trump's former associates. Naturally its too soon to deduce the degree to which the results could lead to more adverse outcomes, but investors were keen to lock in at least some profits.
S&P futures have recovered the bulk of the losses seen overnight as different trade headlines than expected crossed the tape. While this week was supposed to center around U.S.-China trade talks, NAFTA pushed to the forefront with conflicting reports of a "handshake" agreement between the U.S. and Mexico. No official agreement has been reached, but look for the tape to be buoyed if the development isn't shot down too aggressively. U.S.-China trade talks are still expected this week, though details are scant. What is set is that new tariffs will take effect ($16 billion worth) Thursday.
The S&P record Tuesday may not have happened had luxury homebuilder Toll Brothers not alleviated any concerns about the housing market. Its results lifted building products and home building stocks alike, with peers PulteGroup and Lennar among the largest gainers. In the same vein, Lowe's results just hit, and first glance shows the top line was healthy, with a beat in comparable sales, another positive for the sector, coming off of Home Depot's results last week. Shares did trade higher into the results and are looking down 2% pre-market. Further data on the housing sector is due later this morning with Existing Home sales at 10:00 a.m. in New York.
Retailers Kohl's and TJX Companies also contributed to the record, as the latter set new record highs. Target's results also just hit the tape, raising its forecast while beating on comp sales; stock looking up 5%.
Who Didn't Help Us Get here
L Brands, that's for sure. The Victoria's Secret parent was the worst performer this year and also happens to report earnings after the bell Wednesday. The undergarment manufacturer's stock looks spring-loaded, as the options implied 1- day move is 8.3% (well above its historical average) and its short interest sits at nearly 8.3% of its free float, according to Markit data.
Discount brokerages too, didn't help the market tone Tuesday, after banking behemoth JPMorgan waded into the digital-investing space by offering 100 free trades and no account minimums -- a move likely targeted at TD Ameritrade, Charles Schwab, Interactive Brokers and E*Trade, to name a few. Though it may have been awkward executing trades to sell shares in their own companies, the moves in shares didn't warrant much panic for some, save TD Ameritrade, which had its worst day since Feb. 2017. Jefferies in a midday note highlighted the move had been telegraphed for "nearly two years" and saw SCHW as best prepared to handle the development as it has the "broadest investment offering." The above all ended the day lower, but are still outpacing broader financials over the past year.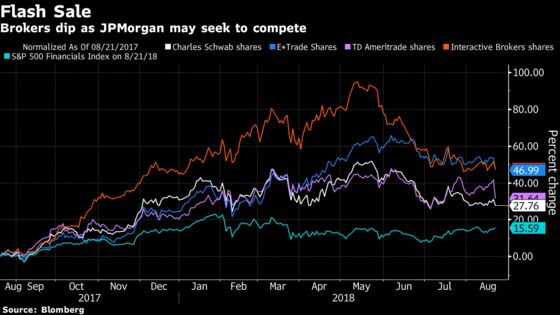 The record came on the eve of what some measures say will make it the longest bull market in history. That would make today quite special if we keep it going. But how do you play it?
You could buy the breakout as a colleague detailed Tuesday. Or look back on most recent history.
In January, we went out at the highs and racked up loss of 1.7% over the next two days. But the situation was different then. It was also mid earnings season, whereas now, we sit towards the end, hungry for fresh catalysts.
If you craved records, you may have instead opted to invest in the Small Cap Russell 2000 which also hit a record Tuesday, though it only took just over a month from the last time. And had you wanted a new record one day sooner than the rest of the market, you could have been in the Russell midcaps.
But for today's session, should the legal fallout be short-lived, the FOMC minutes will be the next major catalyst ahead of the Jackson Hole commentary. The furniture segment (RH, W, ETH, BSET) should get a boost, as La-Z-Boy looks to open nearly 15% above its all-time highs set last year following results last night -- a feat in an environment of online delivery and new entrants such as Wayfair (+85% over the past 12 months).
Watch shares of Qualcomm and Knowles, U.S. traded suppliers (as estimated by Bloomberg) for Chinese phone giant Xiaomi, which, after its anti-climactic IPO, showed strong growth in its inaugural earnings report. A potential drag today, however, could be on some industrial and tire names after the German tire maker Continental whiffed with their results (-13% in Germany, its worst day in two years) -- potentially hurting sentiment in Goodyear Tire and Cooper Tire.
PiperJaffray is out with a downgrade on Starbucks, citing channel checks which indicate a lack of performance. The rating goes to neutral from overweight on the belief there remain issues around "inconsistent results". Analyst Nicole Miller Regan sees the stock as range-bound, and acknowledges the downgrade should likely have come sooner.
AT&T may be getting analyst whiplash after being added to BofAML's US1 list Tuesday, and today getting cut at Wells Fargo. Shares are indicated lower as Wells cites entertainment margin pressures, Time Warner integration concerns and likely flattish stock over the near term for the downgrade to market perform. With all that said, the dividend is seen as "secure."
Tick-by-Tick Guide to Today's Actionable Events
Today -- U.S.-China trade talks possible
Today -- U.S. holds public hearings on China tariffs (day three)
Today -- U.S. Plans to impose new sanctions on Russia
Today -- Enercom oil and gas conference (day four)
8:00am -- ADI earnings
8:00am -- TGT earnings call
9:00am -- LOW earnings call
10:00am -- Existing Home Sales
10:00am -- ADI earnings call
10:30am -- DoE oil inventories
2:00pm -- FOMC Minutes
4:05pm -- SNPS, SMRT (roughly) earnings
4:10pm -- ZAYO earnings (roughly)
4:15pm -- LB earnings