RBC Reins in Canadian Banking Costs as Profit Tops Estimates
(Bloomberg) -- Royal Bank of Canada is keeping costs at bay, even with elevated spending on digital initiatives to woo more customers.
Revenue growth in Canadian banking outpaced expenses in the fiscal third quarter, pushing operating leverage at the lender's biggest division closer to its target for the year. Operating leverage -- the difference between revenue and expense growth rates -- was 5 percent for the period ended July 31, up from 0.7 percent in the second quarter, the Toronto-based bank said Wednesday in announcing record earnings that beat analysts' estimates. The gain helped lift domestic banking profit 11 percent to C$1.49 billion ($1.14 billion).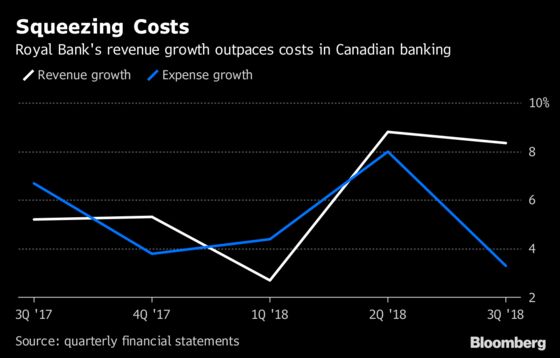 Royal Bank's spending had caught the attention of analysts including National Bank of Canada's Gabriel Dechaine, who called expense-management efforts in domestic banking "a disappointment" amid a period of elevated spending on digital initiatives. The lender rolled out several programs in June: a loyalty plan with WestJet Airlines Ltd., a digital platform for new entrepreneurs, a mobile app for car owners and an online portal to help immigrants set up in Canada.
"We continue to invest in digital solutions and technology and we've also added bankers," Chief Financial Officer Rod Bolger said in a phone interview. "Although more and more transactions are being done through mobile and online solutions, people still need to go into the branches to get advice."
Royal Bank aims for annual domestic operating leverage of 1 percent to 2 percent, and has said the second-half range would be 2 percent to 3 percent. Operating leverage across the bank was 3.5 percent in the quarter, compared with a negative operating leverage of 6.2 percent in the second quarter and negative 9.3 percent a year earlier.
Net income for the three months ended June 30 rose 11 percent to C$3.11 billion, or C$2.10 a share, from C$2.8 billion, or C$1.85, a year earlier, the bank said. Adjusted profit, which excludes some items, was C$2.14 a share, beating the C$2.10 average estimate of 14 analysts surveyed by Bloomberg. The bank raised its quarterly dividend 4.3 percent to 98 cents a share.
"The results this quarter were supportive of estimates and an outlook that expects solid growth to continue," Robert Sedran, a CIBC Capital Markets analyst, said in a note that described the earnings as "largely in line, but solid."
Royal Bank shares rose 0.3 percent to C$102.85 at 9:46 a.m. in Toronto. The stock has gained 0.2 percent this year, trailing the 1.7 percent advance of the eight-company S&P/TSX Canadian Commercial Banks Index.
RBC is the first of Canada's biggest lenders to post third-quarter results. The six largest banks are expected to report earnings growth of 8 percent for the period, according to average estimates of analysts surveyed by Bloomberg.
Here's a summary of RBC's results:
Revenue rose 9.3 percent to C$11 billion, while non-interest expenses climbed 5.8 percent to C$5.86 billion.
The bank set aside C$346 million for soured loans, up from C$320 million a year earlier.
Earnings from personal and commercial banking rose 7.9 percent to C$1.51 billion.
Wealth-management profit jumped 19 percent to C$578 million.
RBC Capital Markets had earnings of C$698 million, up 14 percent from a year earlier, driven by higher revenue from corporate and investment banking and global markets.