Million-Dollar Home Sales Are Gaining in U.S. While the 99% Balk
(Bloomberg) -- Scarce supplies of U.S. homes for sale are propping up prices and pushing some buyers to the sidelines, leading to fewer transactions -- but not for those with big budgets.
Deals for the most expensive properties jumped to a record share of the U.S. total in the last two months, a National Association of Realtors report showed Wednesday. Existing single-family homes with a price tag of at least $1 million made up 3.7 percent of all transactions in July and 3.8 percent in June, the highest in data starting in 2013.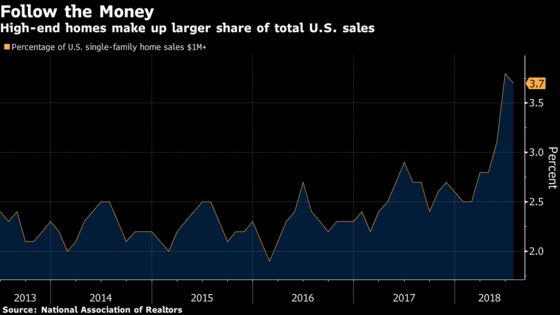 Sales in the category rose 16.2 percent in July from a year earlier, faster than the five cheaper price groups and in line with the pace of gains for expensive homes in recent years. That's happened as sales in the lower end slow. Properties in the $100,000 to $250,000 range -- the largest category -- made up 37.9 percent of sales in July, the second-lowest ever, following a record-low 37.4 percent share in June.
The NAR data are in line with a report Tuesday from Toll Brothers Inc., the country's biggest builder of luxury homes. The Horsham, Pennsylvania-based company reported rising orders, revenue and backlog, a sign that wealthy buyers are feeling confident enough to make purchases.