Lowe's New CEO Shutters Orchard Brand as Results Bounce Back
(Bloomberg) -- Lowe's Cos. Chief Executive Officer Marvin Ellison continued to make waves just seven weeks into his tenure as he decided to shut down a division of smaller stores and eliminate $500 million in capital projects that will be returned to shareholders.
The decision to close all 99 Orchard Supply locations -- along with a plan to revamp the inventory at the company's namesake hardware stores -- led the company to cut its annual forecast. The retailer sees home-price gains driving business and plans to cut costs while investing in "retail fundamentals."
"We have a lot of work to do," Ellison said on a call with investors. "We have a lot of opportunity as a company. The question is how do you reach this potential?"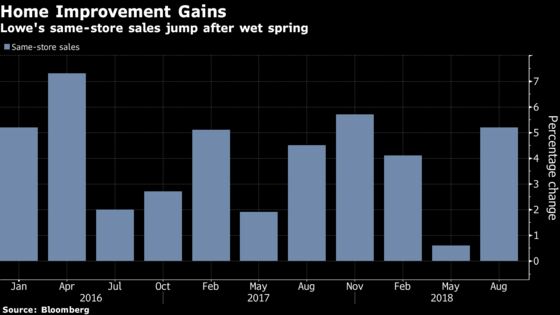 Lowe's now expects revenue to rise 4.5 percent and earnings of $4.50 to $4.60 a share. In May, before Ellison took the helm, Lowe's had projected a sales gain of about 5 percent and profit of as much as $5.50 a share. Investors, however, shrugged off the reduction as shares rose as much as 8.8 percent on Wednesday.
The chain also expects to generate about $1 billion more in free cash flow.
Ellison, in taking a page from larger rival Home Depot Inc., where he was a top executive for more than a decade, wants to simplify the company's organizational structure and strategy so it can move faster and better serve shoppers. To that end, he's hired former Home Depot executives to run stores and merchandising, while an early key strategy is freeing up associates to spend more time with customers -- a tactic he successfully used at his former employer.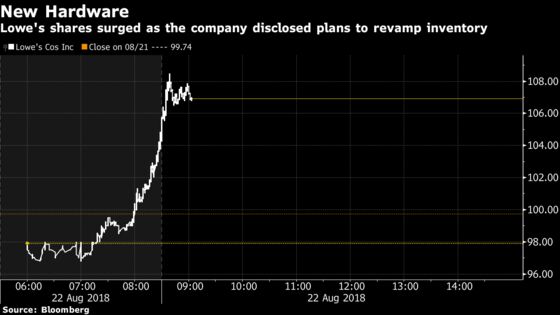 The acquisition of Orchard Supply, with hardware stores based mainly on the west coast, accelerated the company's expansion into key markets like California. But it came at a price as the chain, which Lowe's purchased out of bankruptcy for about $205 million, was often a drag on results. For the shutdown of the unit, to be completed by the end of this year, Lowe's took a $230 million charge last quarter, and it expects additional costs of as much as $475 million in the second half of the year.
Ellison said the exiting of Orchard Supply was part of a larger strategic review of the company that will including looking at its real estate holdings and assets that don't involve its retail business. Cost cutting will also be a major focus.
"The company has unfortunately become distracted over the past few years," Ellison said. "We must create a true expense reduction culture here."
The home-improvement chain's same-store sales increased 5.2 percent during the period that ran through Aug. 3, topping estimates of 5 percent compiled by Consensus Metrix. That was an improvement over the first quarter, when an extended winter delayed home renovations.
Baird Equity Research analyst Peter Benedict called the results "noisy but largely in-line," adding that the new CEO's efforts to rationalize inventory and close the Orchard business will help the retailer sharpen its focus.
With the "near-term bar reset," Baird views Lowe's "as a compelling 'self-help' investment story over the next few years," he said in a note to clients.
Lowe's and its larger rival, Home Depot, are often seen as proxies for the health of the housing sector because property owners spend more on their homes when they believe values are rising. But for several quarters there's been concern that years of robust property gains are cooling. Last week, Home Depot said the market for home improvement remained strong and posted similarly positive results.
Related: Lowe's Names CVS Health CFO David Denton as New CFO
"We posted solid results this quarter by capitalizing on delayed spring demand," Ellison said in the statement. "While it was a necessary business decision to exit Orchard Supply Hardware, decisions that impact our people are never easy."
Earnings in the second quarter amounted to $2.07 a share, Mooresville, North Carolina-based Lowe's said. Analysts had estimated $2.02.
Last quarter housing data was mixed. While gains of home prices slowed from earlier in the year, they still rose 5.3 percent, according to the National Association of Realtors. Prices also climbed in 161 of 178 metropolitan areas measured.