Lowe's CEO Takes Medicine Now to Get Retailer on Firmer Footing
(Bloomberg) -- In his first earnings report as chief executive officer of Lowe's Cos., Marvin Ellison won investors' approval as he laid out a path to simplify the retailing giant's operations -- even if means some short-term pain.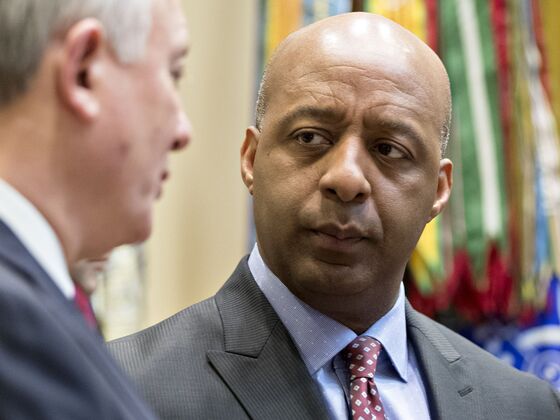 As the start of a broader overhaul at the company, Lowe's will focus on improving customer service and boosting stores' productivity. To that end, Ellison said the retailer would liquidate a division of smaller stores and eliminate $500 million in capital projects -- the cash will instead be returned to shareholders. A cost-cutting plan is also in the works, along with assessments of its real estate portfolio and other non-core assets.
"We have a lot of work to do," Ellison said on a call with investors after the release of earnings. "We have a lot of opportunity as a company. The question is how do you reach this potential?"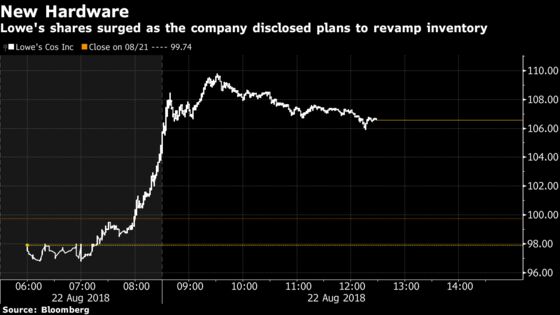 Shares of the Mooresville, North Carolina-based company surged as much as 10 percent to $109.80 on Wednesday, an all-time intraday high. The stock had already gained 7.3 percent this year through Tuesday, helped by a rally since the announcement of Ellison's hiring in May.
Ellison's recruitment away from J.C. Penney Co., where he had served as CEO with mixed results since 2015, was spurred by investor D.E. Shaw & Co. The activist, which holds about 1.1 percent of Lowe's shares, began pushing for changes earlier this year, arguing the chain lagged its larger rival Home Depot Inc. on several fronts, including growth prospects.
Lowe's didn't put up much of a fight. By March, it had named three new directors and longtime CEO Robert Niblock had announced his retirement. A CEO search committee was led by David Batchelder, a new director who sat on Home Depot's board last decade when it revamped management and improved results. Ellison, a top executive in store operations who spent more than a decade at Home Depot, has been the key addition.
Ellison is using a lot of the playbook he first implemented at Home Depot, and this has lured high-profile investors to Lowe's. That includes Bill Ackman's Pershing Square Capital Management, a hedge fund with a long and mixed history of retail investments.
At Lowe's, Ellison has referenced some of Home Depot's advantages, including better store locations in the northeast and on the West Coast, arguing this will be hard to overcome in the short term. But after spending weeks in the field visiting stores, he said all kinds of improvement can be unlocked by simplifying employees' workdays and focusing on what he calls "retail fundamentals."
"When you overly complicate things at the store level, execution just falls apart," Ellison said in an interview.
That led to several second-quarter mishaps, he said, including poor store preparations for the spring home-improvement season and a lot of out-of-stock items. To fix this, Ellison is pushing the company to improve back-end systems and make other changes to free up workers to spend more time with customers.
"I've had great experiences, especially at Home Depot, that when we simplified the business and provided clarity for the associates and put the right processes and systems in place, not only did we drive sales productivity, but we drove operating profit appreciation," Ellison said. "We can do that at Lowe's also."
The company will shut down its Orchard Supply unit, a chain of 99 stores and 4,300 employees mainly on the West Coast. The division was already under review before Ellison arrived because it had become a drag on results. After looking at its performance, Ellison made the final call for liquidation. The division generated about $600 million in sales last year, while posting a $65 million loss in earnings before interest and taxes.
"It was pretty obvious this was not a format that customers were responding to," Ellison said.
To complete the shutdown by the end of this year, Lowe's took a $230 million charge last quarter and expects additional costs of as much as $475 million in the second half of the year. The company purchased the chain out of bankruptcy in 2013 for about $205 million.
The shuttering of Orchard, coupled with plans to improve inventory with better-selling items, led Lowe's to cut its annual forecast. It now sees revenue rising 4.5 percent and earnings of $4.50 to $4.60 a share. In May, before Ellison took the helm, Lowe's had projected a sales gain of about 5 percent and profit of as much as $5.50 a share.
The chain also expects to generate about $1 billion more in free cash flow. And its results from last quarter exceeded expectations.
Same-store sales increased 5.2 percent during the period that ran through Aug. 3, topping estimates of 5 percent compiled by Consensus Metrix. That was an improvement over the first quarter, when extended wintry weather delayed home renovations.
Baird Equity Research analyst Peter Benedict called the results "noisy, but largely in-line." He said the new CEO's efforts to rationalize inventory and close the Orchard business will help the retailer sharpen its focus.
Ellison also continued to revamp management, naming David Denton chief financial officer. The move follows a slew of other changes, including the hiring of former Home Depot executives to run stores and merchandising.