Liechtenstein Bank Eyes Swiss Push After 2 Deals in 2 Months
(Bloomberg) -- (Machine translation provided by Google and reviewed by Bloomberg editors)
After the acquisition of two financial institutions in Switzerland and Austria within just two months, the shopping spree of Liechtenstein's largest listed bank may not have come to an end yet.
"We are interested in further takeovers in Liechtenstein, Switzerland and Austria. We have around 400 million francs of surplus capital that we can use for mergers and acquisitions," Roland Matt, Group CEO of Liechtensteinische Landesbank AG (LLB), said in an interview with Bloomberg.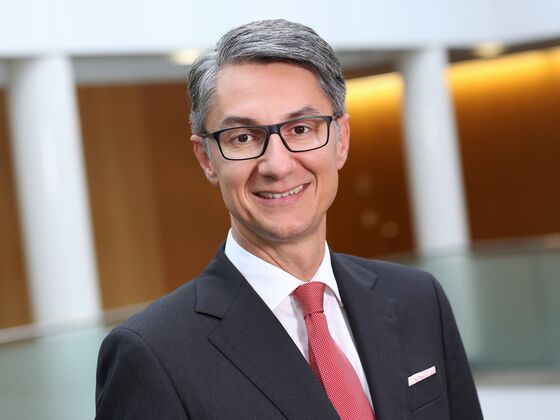 He pointed out that acquisitions would have to strengthen existing activities of the bank. New lines of businesses are not to be tapped. The strategy in the individual countries would not change. "For example, we would not start a retail business in Austria", he added.
In February, LLB bought Zurich based fund service provider LB (Swiss) Investment AG for about 30 million francs from Frankfurter Bankgesellschaft, a unit of Landesbank Hessen-Thueringen Girozentrale. Shortly before, LLB announced the takeover of Vienna based Semper Constantia Privatbank AG for 185 million euros.
The latter is to be merged with sister company LLB Austria to form Liechtensteinische Landesbank (Oesterreich) AG by the end of September. "We believe we will get clearance from the Financial Market Authority in a timely manner," Matt said. Job cuts are not planned. With Constantia's takeover, Austria is to be established as LLB's third home market, alongside Liechtenstein and Switzerland. "Austria is interesting because of its proximity to Eastern Europe, where we see growth opportunities," Matt said.
The newly developing Austrian subsidiary, which will manage more than 18 billion euros in client money, is aimed at institutional investors and private customers with investment assets starting at 500,000 euros. Constantia's activities in real estate could be a driving force in this, according to Matt.
CEO Sees Good Prospects for Swiss Fund Business
The takeover of LB (Swiss) Investment in Switzerland, where LLB is also present in retail banking thanks to subsidiary Bank Linth, has good prospects for the future, Matt said. "The acquisition gives us access to the growing fund business with family offices, banks without their own fund activities and wealth managers," he said. The subsidiary, which is now known as LLB Swiss Investment, launches Swiss funds and takes care of services such as compliance.
Analyst Rainer Skierka of Research Partners AG in Zurich praises the takeovers and said they fit the company's medium-term strategy. There is a "significantly more active management than in the past with correspondingly high agility and visibility in the market," he told Bloomberg. "As a result, awareness is generally much higher with correspondingly broader demand for LLB shares."
Skierka rates the stocks with buy. Zuercher Kantonalbank also sees an outperformance of the stock, analyst José Javier Lodeiro said. Since the beginning of the year, the share price has gained about 16 percent. The market capitalization now stands at around 1.8 billion francs. At the end of July, LLB Group had around 1070 employees.
U.S. Tax Case of Swiss Division Is Still Open
At the beginning of 2013, LLB had embarked on a restructuring pointing to low interest rates and the EU debt crisis, in which 250 jobs were eliminated and subsidiary LLB Schweiz AG was closed.
However, the activities of this former Swiss division still keeps LLB busy today. A U.S. tax case, which is about the alleged acceptance of untaxed customer funds, has not yet been resolved. "We cannot predict when this will happen," Matt said. His company has built reserves. An agreement with the U.S. had already been reached for the part of the bank incorporated in Liechtenstein.
The roots of the bank go back to 1861. Under the name Spar- und Leihkassa, it was initially tasked with offering citizens an opportunity to invest their money "safely and fruitfully". After the Second World War, it turned into a universal bank with international customers. In 1993, a partial privatization took place and it was listed at the Swiss Stock Exchange. The country of Liechtenstein currently holds 57.5 percent of the share capital. A law stipulates that the stake may never fall below 51 percent.
For the first half of 2018, the bank expects consolidated net income to be below the previous year's level after book losses on financial assets, according to preliminary results. However, the operating result developed positively. The net new money inflow amounted to 1.1 billion francs. "LLB is already doing very well again in 2018," analyst Skierka said. The bank plans to publish final results for the first six months on Thursday.
With Karl Sevelda, Matt could bring an Austrian top banker to LLB's supervisory board and thus underline his ambitions for the country. Sevelda, former supervisory board chairman of Semper Constantia and former CEO of Raiffeisen Bank International AG, did not yet join the board this year "due to other work commitments," Matt said. "We are revisiting a nomination for 2019."
Original Story:
Was Liechtensteinische Landesbank in Schweiz, Österreich vorhat
Reporter on the original story: Stephan Kahl in New York at skahl@bloomberg.net
Editor responsible for the original story: Erhard Krasny at ekrasny@bloomberg.net