Goldman to Sell, Lease Back London Office for $1.5 Billion
(Bloomberg) -- Goldman Sachs Group Inc. has agreed to a deal with Korea's National Pension Service to sell and lease back its new London headquarters, in a transaction valuing the property at 1.16 billion pounds ($1.5 billion).
The Wall Street bank will lease back the building for at least two decades, according to an emailed statement, committing the bank to London for the long-term even as Britain's departure from the European Union looms. The building will be ready to move into by the middle of next year.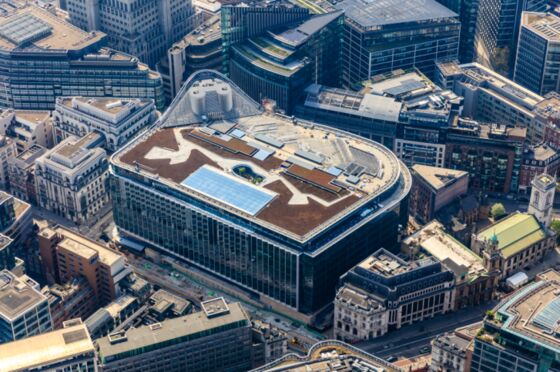 It is the biggest deal announced for a London office building this year and the second-largest ever behind last year's sale of the Walkie Talkie tower for 1.28 billion pounds. Banks including Goldman and Lloyds Banking Group Plc have been agreeing to sale-and-leaseback deals in London as they seek to cash in on demand from Asian investors for property in the U.K. capital and raise funds to reinvest in their core operations.
"The development of Plumtree Court and our signing of a long-term lease demonstrates our continued commitment to London and our European operations more broadly," Richard Gnodde, vice chairman of Goldman Sachs and CEO of Goldman Sachs International said in the statement.
Goldman developed the building itself and plans to use the space for 8,000 workers to consolidate staff from its current three main London offices.
Korean investors have been resurgent in London's real estate market this year and the deal marks NPS' first acquisition in the U.K. capital since its 2009 purchase of Citigroup Inc.'s Canary Wharf tower. Investors from South Korea spent 1.1 billion pounds on U.K. commercial property in the six months through June, more than double the amount in all of 2017, and are forecast to spend 4 billion pounds in the year through December, according to broker Cushman & Wakefield Plc.
Goldman's new European headquarters "is well-aligned with our defensive strategy and will be an excellent addition to our already strong core portfolio," Scott Kim, head of global real estate at NPS said.
The 10-story building spans about 826,000 square feet (76,740 square meters), the equivalent of almost 13 soccer fields, and has the flexibility to be occupied by multiple tenants, according to Goldman Sachs' statement. In a tweet last year in October, former Chief Executive Officer Lloyd Blankfein said the bank was still "expecting/hoping to fill it up but so much outside our control #Brexit." The building will also boast a fitness center, on-site health services and childcare.