Brexit-Bound London Beats Global Rivals to Real Estate Cash
Not even Brexit can dent the appeal of owning commercial property in London, which has regained its status as the top destination for international investors.
Foreign buyers led by Hong Kong billionaires and Korean securities firms spent more on the U.K. capital's offices in the first half than in central Paris, Manhattan, Munich and Frankfurt combined. The weak pound is making London a bargain compared with cities in Europe, many of which have undergone their own property booms.
This, together with a wave of money leaving Asia in search of a home, has helped London cement its position as the No. 1 city for real estate investment from overseas. It's a rare bright spot in Britain's ongoing divorce from the European Union, which has seen investment dry up and economic growth slow as the risks of a no-deal exit mount.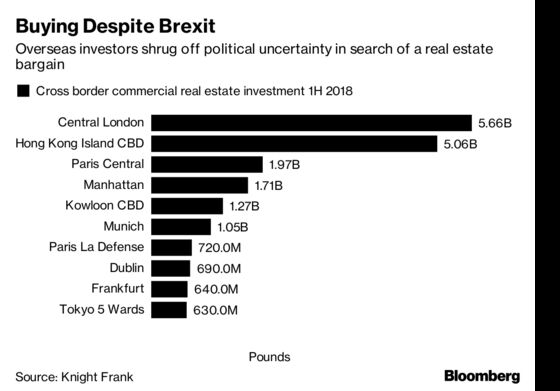 "London office prime yields can seem good value to overseas investors," said William Matthews, head of capital markets research at broker Knight Frank LLP, which provided the data. "Particularly given the prospects of some rental growth and the recent movements in sterling."
Investors from overseas spent 5.6 billion pounds ($7.2 billion) on London offices in the six months through June, according to Knight Frank. Buyers were also reassured by sustained demand for office space in the city and a relative scarcity of supply. The capital's strong employment market, a surge in leasing by flexible-office operators like WeWork Cos. and nervous developers postponing new construction have all contributed.
The biggest London deals this year include the 1 billion-pound purchase of UBS Group AG's 5 Broadgate office by Hong Kong's CK Asset Holdings Ltd. and the 650 million-pound deal to buy Ropemaker Place by Singapore's Ho Bee Land Ltd., the Knight Frank data show. Korea's National Pension Service, which was advised by LaSalle Investment Management Inc., on Wednesday confirmed the 1.2 billion-pound purchase of Goldman Sachs Group Inc.'s new London headquarters in the second-largest deal ever for an office building in the capital.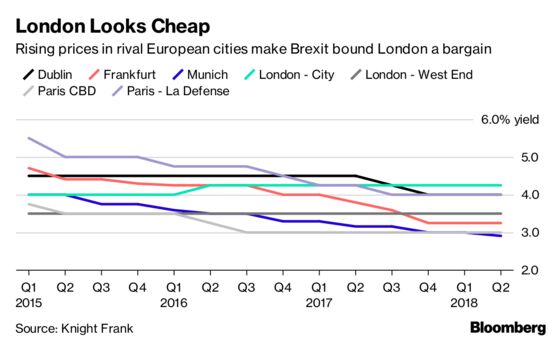 The picture was different in the aftermath of the June 2016 Brexit vote. Then, Asian investors poured into German and French real estate, flooding those markets with capital and quickly causing prices to rise and yields to fall. By contrast, London prices have been little changed, making the U.K. capital relatively cheap.
"One corollary of rising demand for European real estate is that capital has been funneled into continental markets that are traditionally nowhere near as liquid as London," Matthews said. "This has quickly led to exceptionally low yields" in those markets.