Waldorf Hotel Renovations Continue Despite Pressure on Owner Anbang
(Bloomberg) -- Anbang Insurance Group Co. is moving forward with renovations to Manhattan's Waldorf Astoria amid expectations the embattled Chinese company will sell other U.S. hotels.
The insurer, which began demolition work at the Waldorf last November, has signed a contract with Aecom Tishman to cover the second phase of the project, according to a statement Tuesday. The hotel is expected to reopen in 2021 with about 350 condos, 350 hotel rooms and architecturally preserved public spaces, Anbang said.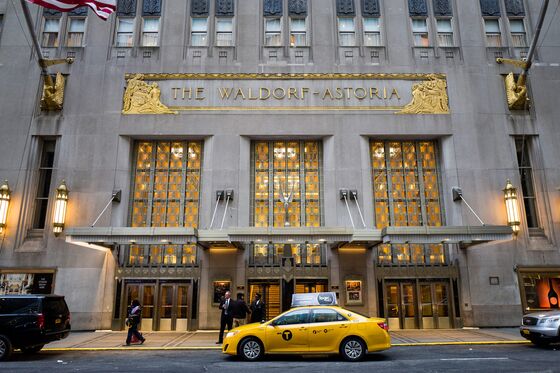 Anbang's plans for the famed Park Avenue property has been fodder for speculation ever since the company acquired it for $1.95 billion, a record price for a U.S. hotel. Questions about the Waldorf's future have only increased as Chinese companies face government pressure to reverse debt-fueled buying sprees and return capital invested overseas. Anbang has held talks to sell a collection of luxury hotels that it bought from Blackstone Group LP in 2016, Bloomberg has reported.
During a conference call last month, Hilton Worldwide Holdings Inc. Chief Executive Officer Christopher Nassetta said that he expects Anbang to follow through with plans to reopen the hotel. Hilton, which has a long-term contract to manage the property, would consider opening another hotel with the Waldorf name in the city if Anbang's renovations were significantly delayed, Nassettta said, though "the Waldorf Astoria in New York should be the only Waldorf Astoria in New York."