U.S. Heads for Best Growth Since 2005 on Robust Domestic Demand
(Bloomberg) -- The U.S. economy looks set to forge ahead as fresh reservoirs of domestic demand carry it past turbulence overseas, keeping the Federal Reserve on course for further interest-rate hikes.
Households have more cash to spend than thought, thanks to newly discovered pools of savings and President Donald Trump's big tax cuts. Firms are ramping up production and rebuilding inventories after running them down by the most since 2009. And government spending finally looks set to swell, after Congress opened the floodgates in March with a $1.3 trillion package.
The result, some economists say: Growth in the second half of 2018 could clock in at 3 percent or more. While that would be slower than the second quarter's 4.1 percent pace, it would be enough to make the entire year's performance the best since 2005, when gross domestic product climbed 3.5 percent.
"It's a green 'go'" for the economy, said Allen Sinai, president of Decision Economics Inc. in New York, who sees GDP expanding 3.1 percent this year.
The solid outlook should prompt Fed Chairman Jerome Powell and his colleagues to press ahead with plans to raise rates two more times this year in spite of criticism from Trump. The president told wealthy Republican donors at a fund-raiser on Friday that he had expected Powell, whom he nominated to replace Janet Yellen this year, to be a cheap-money chair but he's instead tightened monetary policy. Powell is slated to speak Friday at the Kansas City Fed's annual symposium in Jackson Hole, Wyoming.
Growth of 3 percent in 2018 should also be welcomed by the White House. It would be a down payment on the Trump administration's controversial claim that business tax breaks, deregulation and more-favorable trade policies will lift expansion to that pace on a sustained basis.
Caveats to the brighter outlook abound, however. Chief among them are the turmoil from Trump's tariffs on imported metals and a variety of Chinese goods. U.S. stock-market investors have mostly shrugged off the tumult -- share prices are near record highs -- but that could change if Trump widens the trade battles to include automobiles, a key global industry.
Many economists also question how long the good times can last, as borrowing costs head higher, while the boost from lower taxes and higher spending fades next year before disappearing in 2020.
For now, though, things are looking pretty good. Here are some reasons for cautious optimism:
The fundamentals underpinning households are sound -- in spite of the dip in consumer confidence reported by the University of Michigan last week. Americans are benefiting from a strong job market, tax cuts and rising household wealth that's courtesy of buoyant stock and property prices. Wages, though, are lagging.
"Customers tell us that they feel better about the current health of the U.S. economy as well as their personal finances," Walmart Inc. Chief Financial Officer Brett Biggs said last week after the world's biggest retailer reported its strongest U.S. sales gain in more than a decade.
What Our Economists Say
The performance of consumer spending in the second quarter is unlikely to carry through in full force into the second half of the year. As a result, the overall pace of growth will moderate. Bloomberg Economics expects growth to moderate to 2.8 percent on average in the second half. While consumers are benefiting from tax cuts and a tighter labor market, household income creation has not yet accelerated to a pace that can support 4 percent growth on a sustained basis.


-- Yelena Shulyatyeva, Carl Riccadonna and Tim Mahedy, Bloomberg Economics
Those finances are in better shape than previously thought, according to revised government data. The savings rate over 2016 and 2017 is now pegged at an average 6.7 percent, up from a previously reported 4.2 percent, partly because small-business owners and other proprietors made more money than earlier estimated.
Economists differ on whether that money will end up being spent. Goldman Sachs Group Inc. chief economist Jan Hatzius says much of it will be, pointing to July's higher-than-expected rise in retail sales as tentatively buttressing that view. Michael Feroli, JPMorgan Chase & Co. chief U.S. economist, is skeptical but said the extra savings will make households more resilient to economic shocks.
Business profits are booming, helped by Trump's tax breaks. That money is being plowed into share buybacks and increased capital investment -- to the benefit of companies like Cisco Systems Inc., the maker of equipment that directs most of the world's internet traffic.
"We've obviously been operating in what would be described as a pretty robust broad-based economy," Chief Executive Officer Chuck Robbins said last week after the company reported its third straight quarter of rising sales.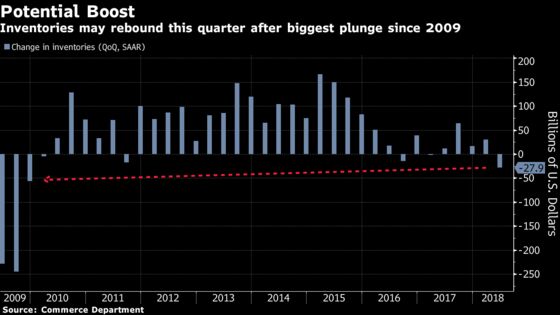 The economy should receive a fillip in the second half as companies rebuild depleted inventories. "Domestic demand rose rapidly in the second quarter and businesses couldn't keep up," said Mickey Levy, chief U.S. and Asia economist at Berenberg Capital Markets LLC in New York. "Inventory investment should contribute sizably to GDP growth in the third quarter."
Government expenditures have been slow to pick up after the March passage of an omnibus spending bill. That's about to change, said Joel Prakken, chief U.S. economist at IHS Markit's Macroeconomic Advisers.
His firm sees federal outlays rising at an annual rate of close to 8 percent in the second half of 2018, up from a pace of about 3 percent in the first half.
Of course, not everything is hunky-dory.
The housing market is losing steam amid a shortage of affordable listings, higher mortgage rates and unfavorable tax changes for some buyers. The pullback in demand has caused builders to turn more cautious, and economists say residential construction may be a drag on GDP growth for the third consecutive quarter.
Trade probably also will hold the economy back, after unexpectedly contributing to second-quarter growth as U.S. exporters of soybeans and other products stepped up shipments to beat retaliatory tariffs from abroad.
Still, the economy's vigor "is a little surprising" in the 10th year of an expansion, said Sarah House, an economist at Wells Fargo Securities LLC.
"We're looking at a pretty strong second half," she said. "There are a lot of positive forces in place."