Poland Backtracks in $28 Billion Battle With EU's Worst Smog
(Bloomberg) -- Poland's latest move to battle some of the worst smog in Europe is actually counter-productive, according to environmental groups.
The Energy Ministry this week proposed norms for the coal used to heat more than 40 percent of the nation's households. But because the rules would take precedence over stricter local regulations in some of the most-affected areas, they may actually mean a step back in the the battle against smog, for which the government has pledged 103 billion zloty ($28 billion).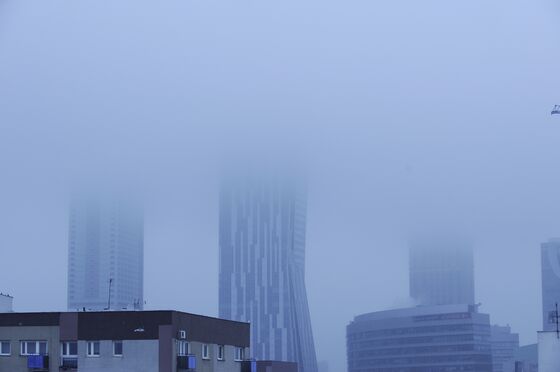 Poor air quality kills about 45,000 people each year in Poland, which contains 33 of the 50 most polluted municipalities in the European Union, with most of the smog coming from home furnaces that are often used to burn low quality coal or even garbage. The ministry argues that the draft law is a "compromise" that will allow less-affluent Poles to keep using coal while sustaining demand for output from local mines.
"It's a scandal that against the opinions of experts, anti-smog organizations and even government officials the proposed norms change absolutely nothing," Andrzej Gula, a leader in environmental group Polski Alarm Smogowy, said in a statement. "It's difficult to understand, especially in light of the government's official pledge to fight smog."
The Energy Ministry gave interested parties just one week to comment on the proposed coal decree, which would supersede stricter limits in place in some cities. Piotr Wozny, the government official in charge of fighting smog, didn't respond to a request for comment.
Jacek Krupa, head of the Malopolska region that is home to about a third of the 33 most polluted cities, said the Ministry's proposal "doesn't give a realistic chance to improve air quality." The Polska Zielona Siec environmental group said that the form of the consultations "was a farce" in a statement on its website.
Faced with mounting criticism from some of the most affected regions and only two months before local-administration elections, the ministry may tighten its proposed norms for sulfur content, daily Rzeczpospolita reported Wednesday. The ministry declined to comment.