Moviegoers Are Back at the Cinema, and Cineplex Thanks Them
(Bloomberg) -- Canada's largest movie theater chain is making a comeback.
Cineplex Inc. is up 16 percent so far this month, thanks to a strong film slate this summer, prompted initially by a February release of Disney's "Black Panther," which reeled in more than $1.3 billion at the global box office. Earlier this month, the company reported positive earnings with an uptick in attendance and ticket spending from the success of favorites like "Avengers: Infinity War" and "Deadpool 2."
Cineplex isn't betting the good times will keep rolling, and probably shouldn't with shares down 38 percent since hitting a high last year.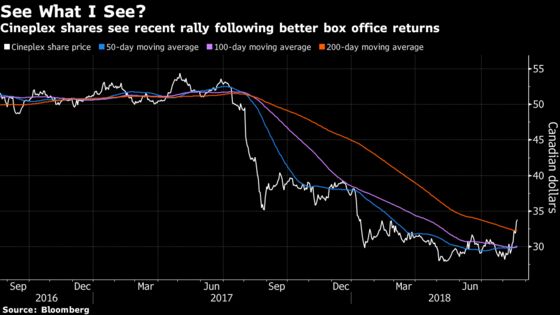 Management is trying to diversify its business model to build out its amusement, leisure and media divisions--it previously announced partnership with Topgolf, an entertainment-focus golf range for leisure. Canada's first Topgolf location will open in the greater Toronto area by year-end 2019, says Cineplex chief executive Ellis Jacob during the Aug. 10 earnings call.
The movie business may be traumatized by 2017, when the box office saw its worst summer in over a decade. When Canada's second-quarter box office growth was half of what was expected in 2017, National Bank Financial analyst Adam Shine downgraded the stock to sector perform and adjusted its forecast.
Box office flops like Paramount's "Transformers: The Last Night" and Universal's "The Mummy" -- movies with big budgets and bigger expectations-- failed to draw audiences.
The stock is now trading above its 50-, 100- and 200-day moving averages.