This Year's Best Performing Commodity Is Seen Set to Double
(Bloomberg) -- Energy traders should get ready for European carbon allowance costs to almost double in the next year, boosting demand for cleaner-burning natural gas, a prominent forecaster said.
The energy consultants Carbon Tracker said the European Union's effort to reduce a glut in its emissions trading system may push carbon permit prices to 35 euros ($40) to 40 euros a metric ton on average from 2019 to 2023. Prices may hit 50 euros in the winters of 2021 and 2022.
Higher emission costs can make it more cost-effective for power generators to use natural gas, which requires only about half the allowances needed to burn dirtier coal. That demand may push up gas prices, currently trading at the highest level for the time of the year in at least two decades, to new seasonal peaks.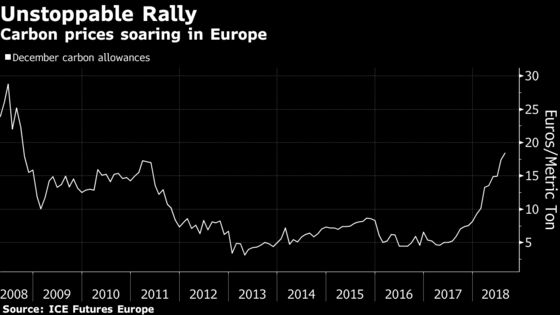 Carbon has more than quadrupled since May 2017 to the highest levels in a decade, buoyed by EU regulations next year that will cut away a surplus that had depressed prices. But the prospect of an EU allowance shortage is pushing up power prices across Europe, which may in turn trigger political pressure to cap carbon.
"Bullish as the outlook for EUA prices looks to us, it is important to remember that the EU-ETS is ultimately a political construct," said Mark Lewis, head of research at Carbon Tracker. "If prices were to exceed 50 euros a ton for more than a couple of months at any point within the next two to three years this would likely lead to pressure for countervailing measures, especially in Eastern Europe."
Read more about carbon rally here
Carbon Tracker's price forecast was revised up from a previous estimate of 20 euros to 30 euros made in April. Benchmark carbon futures have more than doubled this year, outperforming oil's 9 percent gain and the 2.5 percent advance in the S&P GSCI commodities index.
Lewis estimates that the market stability reserve will cause a deficit of about 1.4 billion tons in the power and aviation sectors over the next five years. When the market began in 2005, permits were handed out for free. Since 2013, utilities have had to buy them.
"The market is now counting down to the biggest supply squeeze the EU ETS has ever seen," he said.