Tesla Recoil Stacks Up Against Turkey Takedown: Taking Stock
(Bloomberg) -- Tesla will undoubtedly be at the forefront in today's session, already dipping below $300 per share in pre-market trading after Friday's plunge completed its worst week since 2016. U.S.-China trade-related headlines were sparse and the crisis in Turkey failed to make material headway toward resolution. Turkey observes a week-long public holiday for Eid al-Ahda, which could be a blessing and a curse after ratings agencies S&P and Moody's both cut the Government's rating further to junk after markets closed Friday. Qatar's investment may serve to stem some of the bleeding, but with markets closed, the currency could still be subject to volatility with thin volumes and unknown headline risk as the U.S. and Turkey continue discussions.
Last week's Taking Stock previewed possible scenarios for the Turkey crisis, and it appears the closest version to #2 occurred. Defensives led the way last week with telecoms and consumer staples recording gains in excess of 3.2 percent as the 10 year yield continued its drift lower. That being said, money still came in to equities, and S&P futures appear poised to open even higher this morning, within 20 points of the year's highs set all the way back in January. European equities are broadly higher with a more risk off tone which could bode well for the sectors that didn't perform as well last week. Though staples were a standout last week, we could still see a bit a bid today on the back of M&A sentiment in the beverage space after PepsiCo.'s $3.2 billion deal to buy SodaStream earlier.
Also in focus will be another round of retailers this week, with TJX Companies, Kohl's, Lowe's, Target and L Brands. Cosmetics giant Estee Lauder's forecast missed estimates, sending shares down 2 percent in the pre-market despite 4Q results that beat on the top and bottom line. There's definitely less room for error in the segment as dip buyers took early vacation with J.C. Penney Co. late last week. On the flip side, Nordstrom massively outperformed reaching escape velocity to its year highs Friday.
On the macro front, minutes from the Fed's Aug. 1 policy meeting this week and a raft of potential speakers at the Jackson Hole symposium could add extra layers of midday volatility in coming days for some of the rate sensitive financials and utilities names. The 10-year yield is hovering near some of its lowest levels in a month after only briefly holding that psychologically important 3% level in early August.
The latest turn in the Tesla saga has moved beyond "what Musk knew and when" and the SEC curiosity regarding his going-private tweets to concerns about the man behind the curtain. Business leaders like Arianna Huffington have called on him to take a break, while his New York Times interview hinted at behaviors that appear to be of concern to board members. What is clear, however is that shares in the electric carmaker are trading back to where they were before the company's second quarter results and cash burn rate helped erase concerns related to production and Model 3 issues that surfaced after deliveries were announced in July.
Its not hard to see how the chief executive could be a bit frazzled. Shares have made no fewer than four round trips between $300 and $360 thus far in 2018, creating opportunities and stress alike for the trading community. Musk, despite decrying the media coverage of his company, has appeared to masterfully dominate the news cycle (for better or worse) with interviews, tweets and fresh narratives for the better part of two months. His success in penalizing short sellers however, is a different story. Though the notional amount short has declined from its recent high of more than $13 billion on August 8, $11.2 billion remains short the stock, according to financial analytics firm S3 Partners.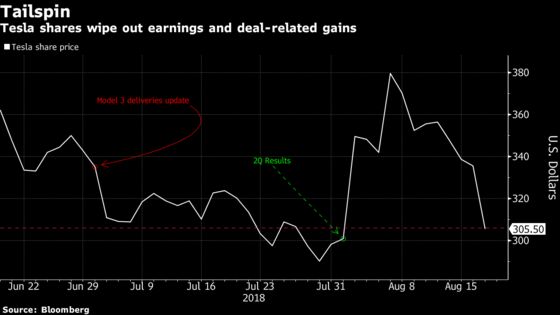 Morgan Stanley is out with its 2Q analysis of institutional holdings of some of the hottest stocks this year. Holdings rose in AAPL, AMZN, FB, Alphabet, MSFT and CSCO, while the weighting for IBM ownership is below its weighting in the S&P and near the lowest in 9 nears. Mega-cap ORCL saw a decline in ownership for 2Q though analysts led by Katy Huberty still flag its ownership at twice its S&P 500 weighting.
Nike is the beneficiary of two upgrades early, from Susquehanna and Piper Jaffray, with analysts from both firms now buyers of the stock and sharing the Street-high price target of $93 (~17% upside to current price). Susquehanna's proprietary checks show Nike's new product is selling well and taking share from the likes of Adidas. Piper cites a diminished risk profile for the athletic wear provider, due to its leaner inventory and Chinese expansion opportunities.
Tick-by-Tick Guide to Today's Actionable Events
Today -- U.S. holds public hearings on China tariffs (day one)
Today -- Enercom oil and gas conference (day two)
9:30am -- EL earnings call
11:00am -- Fed's Bostin speaks on economic outlook
4:15pm -- FN earnings
4:30pm -- NDSN earnings
6:30pm -- BHP earnings
7:00pm -- BHP earnings call