SodaStream Comeback and How It Got Busy With the Fizzy Again
(Bloomberg) -- Four years ago, SodaStream International Ltd.'s shares languished at a record low, short sellers circled and big competitors prepared to storm the Israeli company's market of selling at-home soft-drink machines.
Fast forward to Monday, and SodaStream is selling out to PepsiCo Inc. for $3.2 billion after a remarkable turnaround engineered by Chief Executive Officer Daniel Birnbaum.
So how did SodaStream, which first enjoyed the cachet of must-have cool in the U.K. way back in the 1970s, manage this turnaround? For most of the past four decades, the company bounced among different owners, including a spell as part of Cadbury Schweppes. It had a swift rise and dramatic fall in the stock market after its 2010 initial public offering.
Then in 2014 Birnbaum, a now-55-year-old former Nike Inc. executive, switched SodaStream's marketing focus away from sugary soda, positioning it as a purveyor of healthy sparkling water. At the same time, the company's reusable bottles appealed to consumers worried about the tons of plastic polluting the world.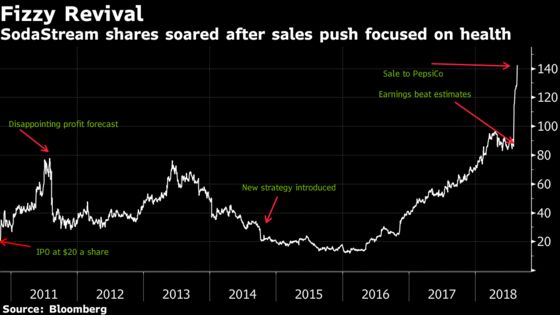 "Drinking water is healthy; a lot of their marketing shifted to the health aspects," said Steven Schoenfeld, founder of Bluestar Indexes, a New York-based financial-research firm focusing on Israel. "Soda has been in decline, water has been ascendant."
The strategy, unveiled in 2014, didn't pay off right away. The company's shares continued to slide, bottoming out in February 2016 at close to $12. But as sales increased and profits soared, the share price followed.
It didn't hurt that an effort by Coca-Cola Co. to move into the at-home market fizzled out. Coke bought a stake in Green Mountain Coffee Roasters in 2014, though the soft-drink-making system they developed was discontinued in 2016 due to weak demand.
Consumers use SodaStream's countertop machines to inject carbon dioxide into bottles of tap water. With optional sugary flavorings, they can create colas and fruit-flavored carbonated drinks. The company sells the machines, reusable bottles, gas canisters and flavorings.
The company and its predecessors have been around since 1903, originating in the U.K., where it was a hit with upper-class British households, according to SodaStream's website. In the 1970s and '80s, when its ads told consumers to "get busy with the fizzy," 40 percent of British kitchen counters sported a SodaStream, the Guardian reported. Peter Wiseburgh, who distributed Cadbury Schweppes products in Israel, acquired the company in 1998, according to Haaretz.
Israeli private equity firm Fortissimo Capital bought control in 2007 and it hit the international big time. SodaStream sold shares to the public at $20 each in 2010 and was a hot stock in its first few years on the market. As growth slowed and costs mounted, short sellers piled in, betting that further declines were ahead. Birnbaum's strategy change reversed the trend, capturing the changing tastes of consumers.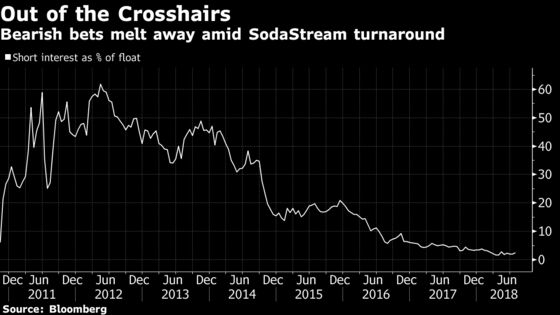 Along the way, the company got mired in the conflict between Israelis and Palestinians. Activists pushed for SodaStream boycotts, saying the company's West Bank factory was part of Israel's illegal occupation of the territory. The company shuttered the plant, though Birnbaum said the closing hurt Palestinians by costing them jobs. Actress Scarlett Johansson, a pitchwoman for the brand, publicly split with Oxfam International after the U.K. charity criticized her role.
Pepsi is paying $144 a share in cash. With Monday's jump, SodaStream has returned 612 percent since its initial public offering. That's about 29 percent a year, which handily outpaces the 9.5 percent annual return of an index of global beverage stocks.
"There's a big secular shift going on, from colas and sweet sodas to sparkling water," said Drew Beja, portfolio manager at Granahan Investment Management in Waltham, Massachusetts, which has owned SodaStream shares for several years and has added to its holding in 2018. "It's a worldwide phenomenon and we don't see an ending anytime."