Lannett Sinks After Losing Key Drug Supplier Contract to Amneal
(Bloomberg) -- Investor confidence in Lannett Co. Inc. is taking a hit after the maker of copycat drugs lost a contract with a supplier of its biggest-selling product to rival Amneal Pharmaceuticals Inc.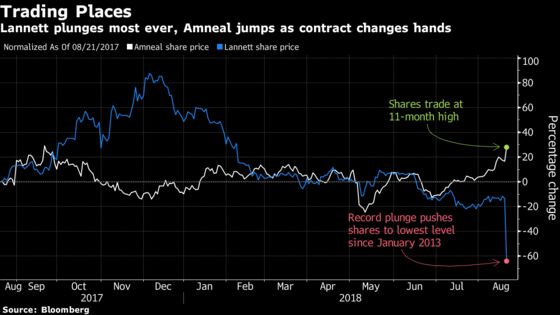 Lannett's shares skinned off more than half their value, their biggest drop ever, to as low as $5.50 after after the supplier, Jerome Stevens Pharmaceuticals, inked a 10-year contract with Amneal.
At the center of Amneal's new accord sits the widely-used generic levothyroxine sodium tablets for thyroid disorders, an estimated 122 million prescriptions for which are written each year. The Bridgewater, New Jersey-based company's shares rallied as much as 13 percent to the highest level since September 2017. While Lannett did not disclose exact sales details for levothyroxine sodium, the company reported 40 percent of sales in the third quarter were in thyroid deficiency.
Even though Philadelphia-based Lannett will continue to get supplies from Jerome Stevens until the new contract takes effect in March of next year, the company's forecast is likely to give investors little comfort. Sales in fiscal 2018 are seen at $685 million, the bottom end of the prior guidance range; expectations for adjusted earnings were between $3.08 and $3.10, trailing the $3.12 average of seven analysts estimates.