How Britain's Biggest Utility Fostered a Tech Startup
(Bloomberg) -- Occupying trendy office space on the edge of central London's Soho district, Centrica Plc's smart-home business looks more like a tech startup than a utility.
Set out as a separate brand in 2013, Centrica Hive Ltd. sells sleek devices from thermostats to motion sensors that manage household tasks through a phone app. The real value is in selling services that link them into a smart system, said Claire Miles, managing director of the business that the utility calls its Connected Home division.
Centrica Chief Executive Officer Iain Conn has picked out Connected Home as a growth engine for the utility battered by political intervention and increased competition. And the pressure is on. He's set a high bar, aiming for revenue of 1 billion pounds ($1.27 billion) by 2022 from nothing five years ago.
The target is "challenging," Miles said in an interview. And to do it, she needs sales to double every year.
The Connected Home business has an interim goal to be at "break even" as soon as next year. But that target is less of a fixed aim and depends on short-term success, Miles said.
The company is targeting six countries -- Britain, Ireland, U.S., Canada, France and Italy -- and success in all is integral to achieving the 2022 goal, she said.
"At the moment, the revenues are heavily driven in the U.K. We need to grow and replicate the U.K. success elsewhere."
Centrica, Britain's biggest energy supplier, has fallen by more than a third since the start of 2017. It's the worst performer in the Stoxx 600 Utilities index for the period, hit by the U.K. government's crusade to cap household energy bills as well as a customer exodus to other providers. Conn has cut 10,000 jobs in two cost-cutting drives since he took over in 2015.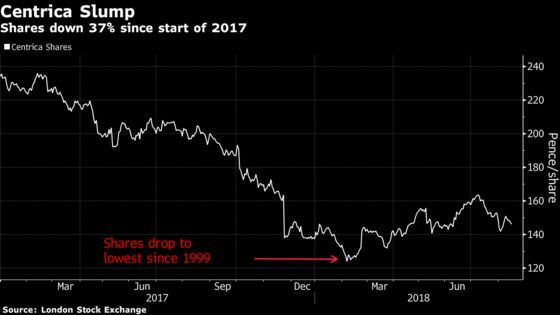 Investors aren't totally convinced that Connected Home can deliver the growth that Centrica's management is promising. RBC Europe Ltd. analyst John Musk has a "healthy dose of skepticism over some of the targets" and says 500 million-pound annual revenue by 2022 is more realistic.
"We appreciate the investment case for Centrica is not an easy one," Musk said. "The core business continues to shrink and the new business lines are not yet able to pick up the slack."
The smart-home unit's first-half revenue rose 31 percent year-on-year to 21 million pounds, short of its target but Miles isn't worried. The company's sales are usually weighted toward the second half when the weather gets colder and big retail events such as Black Friday occur.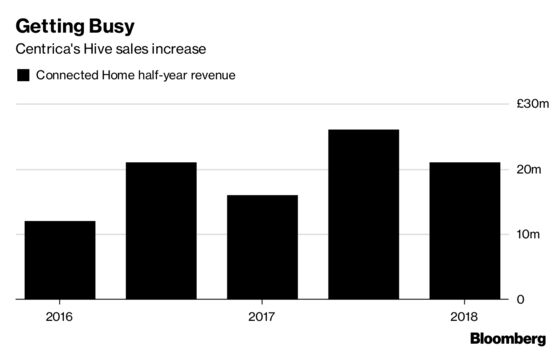 Centrica also needs to boost the revenue it gets from each customer by increasing the number of services they buy. Now, customers are signed up to two services on average and Miles would like that to be four or five.
One of the offerings could be the Hive Leak, a sensor that spots unusual water flows around your home that could be a leaky pipe and then sends you an alert as well as help in finding a plumber to fix it.
For more on the home-tech revolution:
Big Tech is Throwing Money and Talent at Robots for the Home
What's a Bot? A Software Helper That Can Also Scare: QuickTake
Sonos Offering Shows Investor Skepticism for Consumer Tech
The company is looking at different business models to try and boost growth, including services for companies, Miles said.
The number of gadgets people will have in their homes is likely to increase exponentially and Centrica is well-placed for that, Miles said. Its systems can be linked with devices such as Amazon.com Inc.'s Echo Dot or Google LLC's Google Home system. Hive has also partnered with phone company BT Group Plc's EE unit to stay close to technology that consumers are already using in their homes.
"Voice activation has been a great unsettler," Miles said, as a home device can access all the apps you need and link them. "After that will be artificial intelligence, where a device can learn a pattern of behavior and make suggestions based on that."