Ghana Finance Minister Stands Firm on End to Cocoa Subsidies
(Bloomberg) -- As Ghanaian cocoa farmers prepare for the start of the next main harvest in less than two months, Finance Minister Ken Ofori-Atta said their compensation should be set according to international prices, even if it implies a pay cut.
The world's second-biggest cocoa producer subsidized farmers' pay over the past season that began last October after London prices for the beans fell by almost a third in the preceding 12 months. While cocoa staged a recovery this year on forecasts of a smaller surplus, it remains at least 10 percent below the local-currency equivalent when producer prices were set at 7,600 cedis ($1,598) per metric ton in October 2016.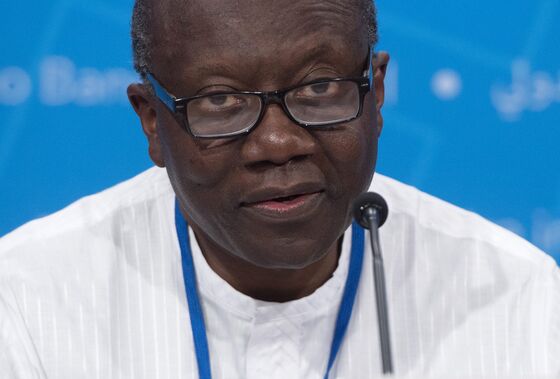 "If we are getting high prices for our cocoa on the international market, our farmgate price should be high," Ofori-Atta said in an emailed response to questions. "If we are getting less we should pay less. Government needs to be firm on this so as not to create a debt gap."
The government can negate pay cuts by creating a buffer when prices are high by charging export duties, Ofori-Atta said.
"For the past five years, government's export duty has been zero," he said. "So there is an urgent need to be firm on the producer-price situation as well as the creation of a buffer."
In March, Agriculture Minister Owusu Afriyie Okoto ruled out price cuts, even after the regulator said the previous month that it was losing the equivalent of about $600 per ton. The government of President Nana Akufo-Addo swept to power in December 2016 polls after winning the vote in the four biggest cocoa-producing regions, compared with only one when it lost the election against the National Democratic Congress four years earlier.
Ghana Cocoa Board, the industry regulator, usually announces the minimum pay for farmers in the week before the new harvest begins.