Atlantia Sinks as Italy Proceeds With Revoking Toll-Road License
(Bloomberg) -- Atlantia SpA traded at a four-year low after Italy started a formal process to revoke the construction company's toll-highway operating concessions after the Genoa bridge disaster last week.
The stock fell as much as 10 percent and was down 8.6 percent at 17.68 euros, the lowest on a closing-price basis since October 2014, as of 10:33 a.m. in Milan. The Rome-based builder is valued at about 14.6 billion euros ($16.7 billion), some one-quarter less than before the midday Aug. 14 highway bridge collapse that killed at least 43 people.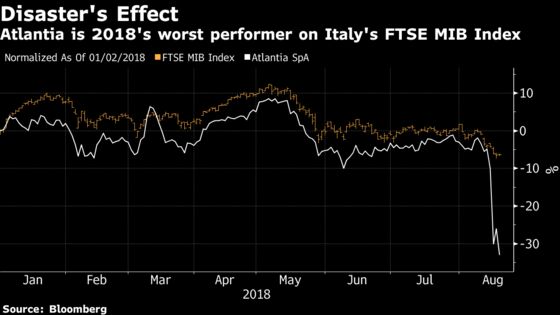 Italian Prime Minister Giuseppe Conte said late Friday that his government formally sent a dispute letter to Atlantia's Autostrade per l'Italia SpA division starting the process of ending the concession. Deputy Prime Minister Luigi Di Maio reiterated the plan Saturday even after Autostrade offered initial 500 million euros in a fund to help victims and rebuild the bridge in less than a year.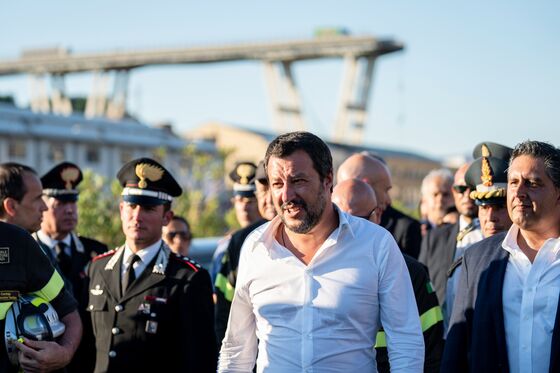 The government is seeking to move rapidly to re-nationalize the highway network after the Genoa catastrophe, and is studying ways to fast-track a law in parliament, La Repubblica reported Monday. Still, the populist coalition has sent mixed signals on any plans, with the Five Star movement pushing to take toll-road licenses away from private operators. La Stampa reported that the League party is working to soften the government's position.
"I can confirm that the process to revoke the concession has started," Deputy Prime Minister Matteo Salvini said on RAI Television Monday. "I don't know if a law on the matter is being discussed," he added. Still, he said, "any state action won't be revenge."
Atlantia's 1 billion euros of bonds due in July 2027 fell 4 cents on the euro to 88 cents, close to record low levels reached on Thursday, according to data compiled by Bloomberg. The 700 million euros of notes due September 2029 issued by Autostrade dropped 5 cents to 87 cents, the data show. The notes were trading at about 98 cents before the bridge collapsed last week.
The Benetton family, which controls Atlantia, offered aid to help victims of the disaster and support the region in repairing damaged road and rail links severed when the mid-section of the Morandi Bridge fell to the ground.
Reconstructing the bridge in eight months could start as soon as Monday should the company get approval, Atlantia Chief Executive Officer Giovanni Castellucci said at a news conference on Saturday. As part of the funding package -- which excludes compensation for whose who were killed -- Autostrade will stop charging tolls in the area, and is planning new roads to ease congestion.
Tuesday's bridge collapse is disrupting northern Italy's economy, causing road detours between the area and the French Riviera while forcing rail cargo to be rerouted through the center of Genoa.