Top Ship-Oil Hub Needs More Than Mideast Flow to Ease Crunch
(Bloomberg) -- Fears over a supply crunch are gripping the world's biggest ship-fuel market so tightly that even an impending injection from another region may do little to allay concerns.
More cargoes of fuel oil -- burned in ships and power plants -- may head to Asia from the west in September versus the previous two months because lower air-conditioning requirements with the end of summer means Middle East utilities will use less of it, according to four traders surveyed by Bloomberg News.
Still, everything from refineries curbing production before new emission rules due in 2020 to the prospect of U.S. sanctions on Iran reducing the Persian Gulf state's supply and lower Russian output is keeping the market in backwardation, where immediate prices are higher than those for later cargoes. That discourages storing and is likely to cap stockpiles in Singapore, the No. 1 outlet for sales of the fuel, near a nine-year low.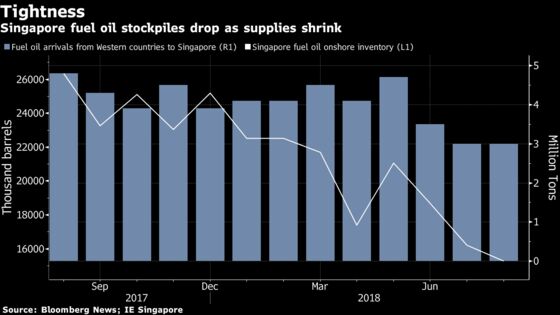 "Bunker supplies are genuinely tight," said Nevyn Nah, a Singapore-based analyst at Energy Aspects Ltd. "Fuel oil may weaken a little on higher supplies from the Mideast once cooling demand falls next month." Still, backwardation may only ease slightly after reaching as much as $9 last month, he said.
Also read: World's Top Ship-Fuel Market Seen Squeezed as Europe Flows Slow
Swaps of 380-centistoke fuel oil for August were $9.11 a ton above those for September on July 31, the highest premium in three years, according to data compiled by Bloomberg. The September-October spread has narrowed to less than $6 as of last week. The last time the front-month contract traded at a discount, or contango, was on Feb. 21.
Singapore's onshore stockpiles of residual fuels dropped to 14.35 million barrels in the week to Aug. 8, the lowest level since July 2009, according to government data. The inventory recovered a little last week. The city-state usually sells about 3 million tons, or about 19 million barrels, of 380-centistoke fuel oil for bunkering every month, data from the Maritime and Port Authority of Singapore show. Arrivals were estimated at 3 million tons for both July and August, compared with above 4 million tons in every month since January.