Mahathir's 100 Days in Office as Malaysia's Leader: Scorecard
(Bloomberg) -- Malaysia's 93-year-old leader Mahathir Mohamad marks his 100 days in office having delivered on several of his election campaign pledges.
With all of the promises completed or already started, Mahathir gave himself full marks for the 10 pledges for this period, and said the government has met 21 of all 60 items in its full manifesto. He'll have a tougher task on some of his other economic goals, including bringing down debt and sustaining economic growth, as global risks from a trade war and emerging-market slump continue to mount.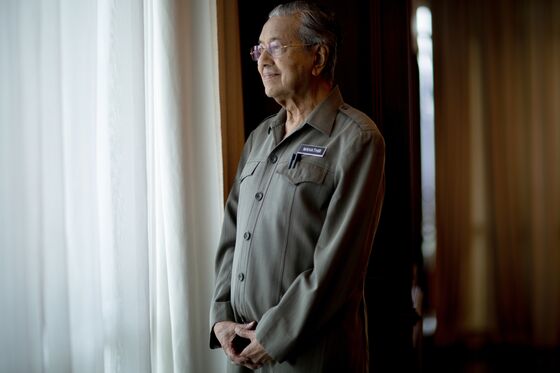 Mahathir is cutting government jobs and has halted some China-linked projects as he tries to rein in debt and liabilities exceeding 1 trillion ringgit ($244 billion) inherited from the previous administration. He began a five-day trip of China on Friday as he seeks to renegotiate the terms of some of the investment contracts.
Here is a checklist of Mahathir's 100-day pledges and how the new government has fared so far:
Pledge: Abolish the goods and services tax.
Status: Completed
The government cut the 6 percent GST rate to zero starting June 1 and repealed the law. It has prepared a sales-and-services tax to take its place in September.
Pledge: Stabilize petrol prices and introduce subsidies.
Status: Completed
Malaysia allocated 3 billion ringgit to subsidize the prices of RON95 gasoline and diesel and keep them fixed in 2018.
Pledge: Erase debts imposed on farmers and small landowners linked to the state plantation company, Federal Land Development Authority, or Felda.
Status: In progress
The government is studying ways to do this, including by reducing debt taken by farmers for replanting and erasing part of loans used to buy shares in FGV Holdings Bhd., said Mahathir, without setting a date for when this will happen.
Pledge: Introduce pension fund contributions for housewives under the Employees Provident Fund scheme.
Status: In progress
Registration for this non-mandatory program opened this month, despite the government earlier warning that it may be delayed.
Pledge: Equalize and raise minimum wages across the nation.
Status: In progress
While some details of the plan have been provided, it hasn't been implemented yet. The government plans to review the level every two years and raise it to 1,500 ringgit within five years.
Pledge: Postpone repayment of student loans under the PTPTN program for lower-income citizens, and abolish the policy that bans defaulters from leaving the country.
Status: In progress
The government has removed thousands of people from the travel blacklist for defaulting on their student loan payments. It has also asked Malaysians to update their income information to be eligible for a suspension in repayments without saying when the postponement would take effect.
Pledge: Set up Royal Commissions of Inquiry on institutions including 1MDB, Felda, the Tabung Haji pilgrimage fund, and reform governance of these agencies.
Status: In progress
Malaysia has set up a task force to investigate troubled state fund 1MDB, and a separate Institutional Reforms Committee that had sent in their recommendations to Mahathir's advisers. He said the Royal Commissions of Inquiry hasn't been set up because investigations are ongoing.
Pledge: Set up a special cabinet committee to properly enforce the Malaysia Agreement 1963, which was aimed at safeguarding special interests of the states of Sabah and Sarawak before they agreed to became part of Malaysia
Status: In progress
This group has already been formed, but putting the rights into action may be a different story. Minister of Economic Affairs Azmin Ali warned that granting 20 percent royalty to the oil-producing states, a main part of the rights, will take time.
Pledge: Introduce a health card program with 500 ringgit funding for lower-income Malaysians for basic treatments at private clinics.
Status: In progress
The pledge may take some time to be fulfilled as the government looks to limit spending. A ministerial memorandum is being prepared, Mahathir said.