Wall Street Likes Nordstrom Quarter, But Warns of Profit Peak
(Bloomberg) -- Nordstrom Inc. shares surged as much as 10 percent, to the highest intraday since December 2016, after the company lifted its full-year earnings forecast and its second-quarter results topped estimates. But some analysts say this may be a high-water mark for the year, with Piper Jaffray warning these share gains may fade later as expectations dim.
Other department store shares are mixed, with Kohl's Corp rising as much as 2.5 percent, Macy's falling 0.2 percent, and JC Penney Co. sinking as much as 9.1 percent.
Here's a sample of analyst commentary:
Morgan Stanley, Kimberly Greenberger
Greenberger is "encouraged" by Nordstrom's strong quarter, driven by an 'Anniversary Sale.' Expects the second quarter will be this year's best, as sale results haven't usually corresponded with full-year trends.
Maintains underweight, with a price target of $47.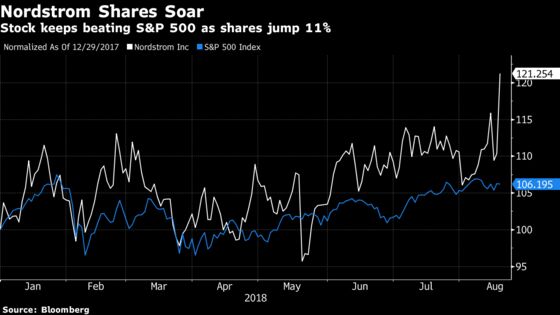 Reported "very solid" second-quarter earnings, "with a notable acceleration in comps and nice margin improvements (partly helped by timing). We are particularly encouraged to see that outsized e-comm growth and improvements in off-price led to the best comp in 3 years."
Though Tunick acknowledges that timing shifts will likely hurt the second half of the year, he expects sustained margin improvement.
Rates Nordstrom sector perform and raises price target to $55 from $49.
"Nordstrom's initiatives are beginning to bear fruit and have positioned
it as a leader in the industry," Telsey writes, noting that it continues to increase penetration of digitally enabled sales. That's "particularly encouraging given that these customers tend to have higher engagement," as those shopping online and in-store spend five times more, and profitability per customer doubles compared with customers shopping only in-store. Telsey also flags an "exceptionally strong" off-price channel, driven by better inventory management.
"We believe the best is yet to come as the company opens its New York store, strengthens its supply chain, and continues to benefit from the shift in consumer spending online."
Maintains outperform rating; raises price target to $65 from $57.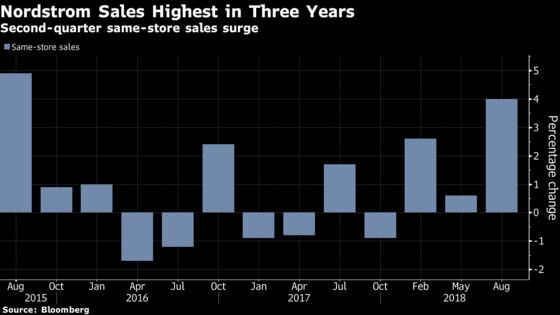 Concerned by the potential for higher returns in third quarter, and notes that the anniversary sale was in line with expectations. Sees gross margins as flat in the second half. Expects shares to fade throughout the day as third-quarter estimates drop.
Rates neutral, with a price target of $49.
"We are most impressed by clean inventories," along with comp store sales improvement at Off-Price, and significant digital growth and penetration. "Nordstrom's local market strategy will enable physical and digital personalization-at-scale as a network of store, inventory, and service options will drive product that customers want at the right place and time, on their terms." Chen sees good prospects for continued second-half momentum.
Rates market perform, increases price target to $56 from $51
"Nordstrom had a solid Anniversary Sale and e-commerce investments are driving growth," Yruma writes. "Similar to Walmart, heavy digital investments position the company well for long-term growth." Rates sector weight.