Novelty of Scooters Poses Serious Challenge to Cars' Reign
(Bloomberg Opinion) -- The city of Portland, Oregon, is now three weeks into its four-month-long dockless electric scooter pilot program. More than 1,000 of the zippy vehicles racked up more than 96,000 rides in 21 days. It's a rapid ramp-up for any technology, and it could prove to be a genuine disruptive innovation that challenges the primacy of the automobile.
In their first two weeks, Portland's scooters tallied twice as many rides as its docked bicycle program did — with roughly the same number of vehicles — in its first two weeks in 2016. Further data will reveal how much of this uptake is rapidly scalable, flexibly deployed, and capable of cutting into the car's space and role on America's city streets.
I asked Regina Clewlow, CEO and co-founder of mobility data and analytics firm Populus, for her thoughts on scooters' appeal. Clewlow said that some of it is undoubtedly their novelty. They're also more forgiving than bicycles for those in work attire. And thanks to dockless bikes, city dwellers were already accustomed to the idea of shared vehicles located (and often rented) with a mobile phone.
Calculating the opportunity for scooters elsewhere requires data on how and why we travel. Fortunately, there's a raft of this data from the latest National Household Travel Survey.
Most scooters are ridden only a few miles at a time. These are short trips — but so are most car trips! More than 20 percent of all U.S. vehicle trips cover less than two miles, and more than half of all trips are less than four miles.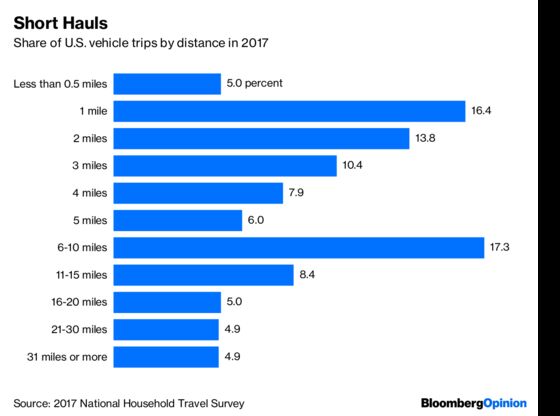 Most car trips, too, are for purposes a scooter or bike could fulfill. There are really only a few categories (transporting someone, driving to school, heading for medical services) that couldn't easily be done on a shared bike or scooter.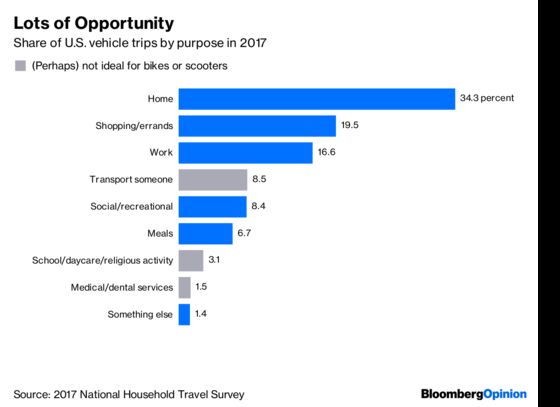 Solo little vehicles aren't for everyone — toddlers, for instance, or those less able. The survey doesn't categorize travel by physical ability, but it does sort by age. More than a third of U.S. travelers are between the ages of 16 and 39 and, if they're interested and able, probably capable of using a small vehicle.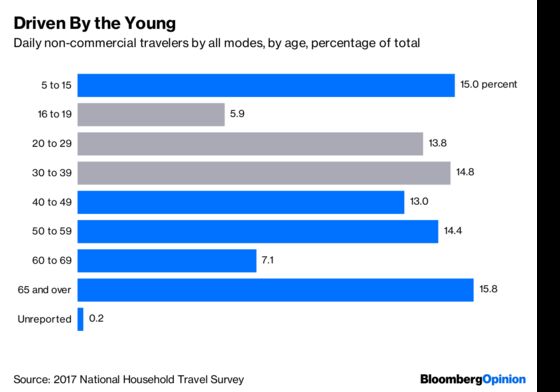 So how many people really need a car-sized vehicle for their trips? It turns out U.S. vehicles are mostly empty when in motion.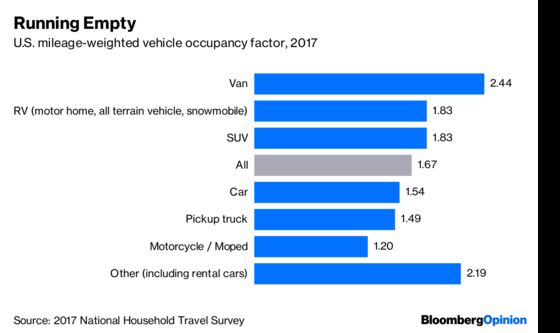 Across the total U.S. non-commercial vehicle fleet, anything rolling or moving on treads is carrying an average of a mere 1.67 people.
Our cities are already swarming with powered personal vehicles: automobiles. They're marvels of engineering, quality and value; they're also overengineered for the jobs they're doing. Small networked vehicles, inferior in every way to contemporary automobiles, are also a classic disruptive innovation. We'll see just how disruptive as more cities get more bikes and scooters.
Elon Musk has had a dramatic few weeks, and he says that "from a personal pain standpoint, the worst is yet to come."

Uber turns 10 in March. Bloomberg Opinion's Shira Ovide says that

we still don't know if it's a real business

.

To get ready for robot driving, we might need to reprogram pedestrians.

Bloomberg's metals, agriculture and livestock indexes have

all slid below their August 2017 levels

. Only energy indexes remain above par.

The Keystone XL pipeline has been sent back for

another environmental review

.

Graphene, a single layer of carbon atoms that has been "hard to manipulate and manufacture in industrial quantities," has arrived for consumers in the form of a

magical jacket

.

Artificial intelligence

is coming to disaster relief

and evacuation.

A Reddit user helped identify the vehicle in a fatal hit-and-run accident from the photo of a

single piece of plastic molding

shared on the "WhatIsThisThing" sub-Reddit.

Today's city streets are the

fourth path

, an evolution of a space that was first "undifferentiated, shared by people and animals alike."

A survey finds that "the number of respondents that believe that roadways would be safer if all vehicles were fully autonomous versus operated by people has

decreased 18 percentage points

in just two years."

A new overnight bank rate, the

U.S. Secured Overnight Financing Rate

, looks to move out of Libor's $150 trillion shadow.

Bloomberg NEF's Signposts is a quarterly look at transformation in clean energy, advanced transport, commodities and digital industry.
This column does not necessarily reflect the opinion of the editorial board or Bloomberg LP and its owners.
Nathaniel Bullard is an energy analyst, covering technology and business model innovation and system-wide resource transitions.