Oil Edges Higher on Anticipated U.S.-China Trade Talks
(Bloomberg) -- Signs of easing tensions between the world's two largest economies helped to lift oil a little after the U.S. reported a surge in crude stockpiles Wednesday and futures flirted with a key technical level.
Oil in New York was capped at a 0.7 percent gain Thursday despite the announcement that the U.S. and China will resume trade talks in an attempt to defuse geopolitical tensions. Amid macro-economic fears, WTI, the U.S. crude benchmark, briefly dipped below $65 per barrel early Thursday and neared its 200-day moving average for the first time since October.
The revival in trade talks, if successful, could be a "light at the end of the tunnel," but only if the market is offered something substantial, said Michael Loewen, commodities strategist at Scotiabank in Toronto. "You would have renewed expectations for continued growth out of China, which is underpinning everyone's assumptions. If those trade concerns go away, then the world is going to look a lot more rosy."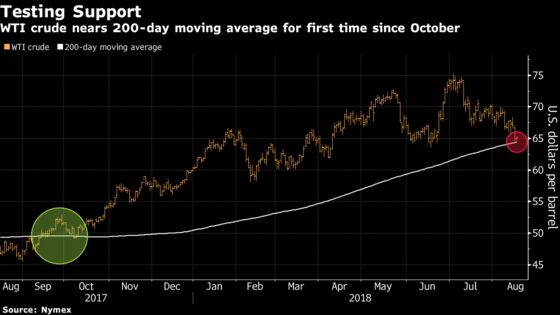 Prices flirted early Thursday with the 200-day moving average, seen as a key support level for the market. Ongoing market fears "came to the fore" Wednesday, said John Kilduff, a partner for New York-based hedge fund Again Capital LLC, as the jump in crude inventories and struggles in emerging markets continue to spark concerns about diminishing demand.
A breakdown in negotiations between the U.S. and China two months ago raised concern that global economic growth could slow, curbing energy consumption. A standoff between the U.S. and Turkey subsequently sparked fears of contagion among emerging markets.
China will dispatch Vice Commerce Minister Wang Shouwen to the U.S. in late August for low-level trade talks in the first official exchanges since those negotiations broke down. The two nations had appeared to have reached a deal in May, but U.S. President Donald Trump backed away from the agreement a few days later. Washington and Beijing have since been locked in a trade standoff as they slapped tariffs on billions of dollars of each other's goods.
West Texas Intermediate crude for September delivery rose 45 cents to settle at $65.46 a barrel on the New York Mercantile Exchange. Average volume traded Thursday was about 32 percent below the 100-day average.
Brent for October gained 67 cents to $71.43 a barrel on the London-based ICE Futures Europe exchange. The global benchmark crude traded at a $6.55 premium to U.S. benchmark WTI for the same month.
The gain in U.S. crude inventories held oil prices back Thursday, analysts said. Nationwide stockpiles rose by 6.81 million barrels last week, the most since 2017, and Cushing, Oklahoma, stockpiles expanded for the first time since May.
Gasoline futures dropped 0.50 percent to settle at $1.9874 per gallon.
WTI crude sentiment is bearish, analysts and traders said in a weekly Bloomberg survey.
In November, U.S. sanctions on Iran are due to enter into force that could drive down the Persian Gulf nation's exports and upend the global oil market.
The Keystone XL Pipeline will get a new environmental review from the U.S. State Department, a federal judge ruled. The U.S. district court judge in Montana sided with indigenous and environmental groups Wednesday.