Nvidia Earnings Offer Chance to Stem Bleeding in Chip Stocks
(Bloomberg) -- Nvidia Corp.'s revenue forecast and its performance in gaming and data centers will be scrutinized by investors when the chipmaker reports fiscal second-quarter earnings on Thursday afternoon.
Gaming revenue, which accounts for more than half of sales, is expected to be $1.74 billion in the second quarter, an increase of 1.4 percent from the first quarter, according to the average of three estimates compiled by Bloomberg News. Data center revenue is expected to expand 7 percent quarter-over-quarter to $750 million, based on four estimates.
The earnings report coincides with a sell-off in semiconductor stocks fueled by demand concerns and fears of a U.S. trade war with China. The Philadelphia Semiconductor Index has fallen almost 5 percent in the past five trading days, its worst slump since late June. While Nvidia isn't typically considered a bellwether for semis, it's the second-best performing stock in the 30-member index this year and has more than quadrupled in the past two years. Nvidia shares were little changed as of 3:15 p.m. in New York.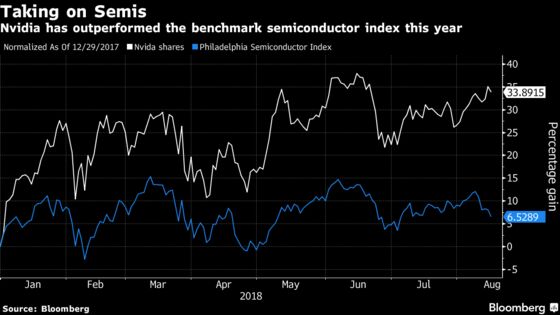 "Nvidia has been a leading rocket ship," Eric Ross, chief investment strategist at Cascend Securities LLC, said in an interview. "If they're able to show that data center is a big driver and the hyperscale guys are driving big increases, I think everyone's going to come back and say, 'Why am I so worried?'"
Analysts are closely watching gaming sales ahead of Nvidia's expected introduction of its new Turing graphics processors later this year. Comments on cryptocurrency-related sales will also be in focus after Nvidia gave its first details for that market last quarter. The company said in May that cryptocurrency revenue may fall by two-thirds in the second quarter. Peer Advanced Micro Devices Inc. said last month that its cryptocurrency revenue fell in the second quarter.
Here's what analysts are saying ahead of the results:
"We believe that near-term investor expectations are somewhat muted."
"Gaming related revenue growth could be lower than expected on channel inventory flush ahead of the widely anticipated Turing launch."
"The potential for moderating near-term estimate revisions, coupled with a premium valuation, will likely keep NVDA shares range-bound" until graphics revenue re-accelerates.
MKM is "expecting solid July quarter results but a large raise to September estimates seems unlikely."
"The forward gaming trajectory remains a controversy. We have been somewhat reticent about crypto, and note the company (similar to AMD) filled the channel in Q1; to that end we model gaming revenues well below seasonal through the year."
"Any crypto-related air-pocket (should it manifest) should be short lived, and (similar to AMD) investors should be willing to look past it if it occurs."
"We see upside potential but fear it comes with gaming channel clearance and crypto demand risks, though we believe more substantial beats are possible later this year."
"Severe gaming risk" is mitigated by factors including robust demand for gaming notebooks, strength in e-sports, "continued Fortnite mojo" and read-through from AMD's consumer demand.
Bloomberg Intelligence, Anand Srinivasan
"Nvidia's sales interplay between its large gaming segment and fast-growing data-center unit carries potential for near-term disruptions even as longer-term secular trends remain strong in gaming, data center and autos."
"Cryptocurrency mining likely contributed to rising average selling prices, and as this effect trails off, pricing may also be weaker."
"We believe gaming demand is seeing some softness due to a product transition (Turing)."
"We think Data Center results will be largely in line with growth sequentially (higher than company growth) but unlikely a 'blow-out' quarter due to summer spending seasonality."
Morgan Stanley, Joseph Moore
"The timing of new product transitions should prove to be a tactical concern, that may limit near term upside - but the big picture remains compelling."
"The negative data points on the gaming side are largely backward looking."
The stock's setup into earnings is favorable amid "well-documented choppiness" in the gaming channel that should be offset by continued strength in data center demand and backlog.
Cowen sees little risk to near-term numbers from cryptocurrency sales after Nvidia "de-risked" the segment with its forecast.
Given strong capital spending from hyperscale cloud customers through the first half of 2018, Cowen sees no reason for a slowdown in spending this year as customers continue to "demonstrate a near insatiable appetite for AI computing horsepower."
2Q revenue estimate $3.11 billion (range $2.91 billion to $3.22 billion); Nvidia on May 10 forecast $3.1 billion plus or minus 2 percent

Gaming revenue estimate $1.74 billion, up 1.4 percent quarter-over-quarter (average of 3 estimates compiled by Bloomberg News)
Data center revenue estimate $750 million, up 7 percent quarter-over-quarter (4 estimates)
Automotive revenue estimate $148 million, up 2 percent quarter-over-quarter (2 estimates)

2Q adjusted EPS estimate $1.85 (range $1.77 to $1.91)
2Q adjusted gross margin estimate 63.5 percent (range 63.4 percent to 64.0 percent); forecast 63.5 percent
3Q revenue estimate $3.35 billion
3Q adjusted gross margin estimate 63.3 percent
Nvidia has 29 buy ratings, 12 holds, 1 sell
Average price target $283.52 implies 9.4 percent upside from current price
Implied 1-day share move following earnings: 6.7 percent
Shares rose after nine of prior 12 earnings announcements
Adjusted EPS beat estimates in each of past 12 quarters
Shares are up 0.3 percent in past 5 days versus S&P 500 down 1.4 percent
Shares have gained 34 percent year-to-date versus S&P 500 up 5.4 percent
Earnings release expected at 4:20 p.m. New York time
Conference call 5:30 p.m. (877) 223-3864, password: 3298827