J.C. Penney Plunges to a Historic Low After Loss Forecast
(Bloomberg) -- J.C. Penney Co. plunged as much as 27 percent to a historic low after forecasting a surprise loss for the year amid clearance sales to get rid of a pile-up in unsold items.
The struggling department-store chain, which has been without a chief executive since May, also posted a wider-than-expected loss for the quarter ended Aug. 4, and disappointing same-store sales, a closely-watched measure for retailers.
The results will increase the urgency to find a new leader who can tackle a turnaround. The price cutting was drastic last quarter, as the retailer offered discounts on more than the usual seasonal products or unwanted fashion items. By reducing the inventory, however, J.C. Penney may make itself more attractive for an incoming CEO looking for a fresh start.
The shares, which had already lost 35 percent in the past year, fell to as low as $1.75 on Thursday, the lowest since at least 1980, according to data compiled by Bloomberg.
Read More: J.C. Penney sees unexpected loss for the full year.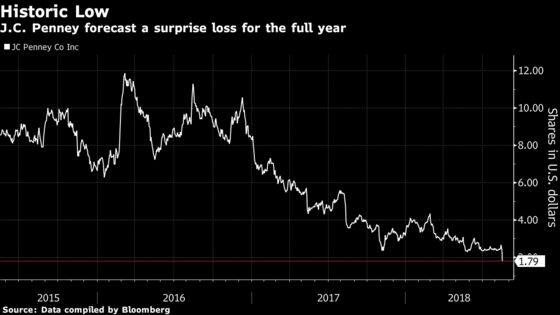 "We will continue to take actions to right-size our inventory, better curate our assortment and most importantly, provide a solid foundation that we can continue to build upon as we move forward," Chief Financial Officer Jeffrey Davis said in the statement.
The debt markets also reacted to the quarterly report: The retailer's first- and second-lien notes maturing in 2023 and 2025 both plunged to record lows, trading around 90 and 79 cents on the dollar respectively after the announcement, according to Trace bond-trading data. The cost of protecting J.C. Penney's debt also widened the most since 2014, according to data provider, CMA.
On a call to discuss results, management said its liquidity position was $2.2 billion at the end of its second quarter, and it expects to have more than that amount by year-end. The retailer had $182 million of cash and cash equivalents at the quarter's end, and its free cash flow was negative $235 million for the first half of the fiscal year.
The Plano, Texas-based retailer is looking to replace Marvin Ellison, who, in a surprise move, left this year to run home-improvement retailer Lowe's Cos. He had taken initiatives to revive growth by improving online shopping, signing celebrities up for brand partnerships and adding big-ticket items. It helped, but the clothing business continued to struggle, and, like his predecessors, Ellison had to resort to discounting prices to get rid of inventory.
"Their new inventory model is 'buy and chase,' it will require any excess inventory will be marked down and cleared. It will pressure margins," said Poonam Goyal, an analyst at Bloomberg Intelligence. "Until they right-size inventory, it will hard to tell if the new inventory model is actually going to work."
Chairman Ronald W. Tysoe gave an update on the CEO search in the earnings statement.
"The process is going well and the board has met with highly qualified candidates who have expressed a strong desire to become the next leader of J.C. Penney," Tysoe said. "The hiring of a new CEO is the top priority of the board of directors."
On Wednesday, J.C. Penney's stock was swept up in an industry selloff after Macy's Inc. -- which had recently emerged as a bright spot among department-store chains -- reported a spike in spending in the first half.
In the fiscal second quarter, J.C. Penny posted a 0.3 percent gain in same-store sales, a key measure for retailers that focuses on established location. While that was the fourth consecutive quarter of growth, it came in lower than the 1 percent rise anticipated by analysts.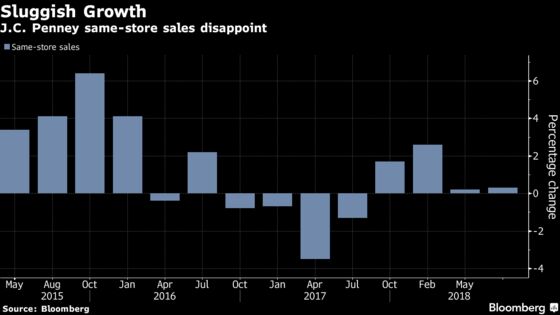 The quarterly loss was 32 cents, the retailer said. For the full year, the company now expects a loss ranging from 80 cents to $1, excluding some items. Analysts had projected a profit of 4 cents. J.C. Penney's previous guidance was for a loss of 7 cents to a profit of 13 cents.