Indonesia Inc. Finds Solace in Loan Amid Emerging Market Woe
(Bloomberg) -- Indonesian borrowers are quickly learning who their real friends are.
Their lenders are continuing to extend loans, as bond investors get cold feet amid concerns about emerging-market volatility.
Banks are keen to boost lending that's slowed as companies hold back on new investments ahead of the nation's presidential elections next year. They've cut the average margins this year on three-year syndicated dollar loans to Indonesian companies to 90 basis points, the lowest in data compiled by Bloomberg going back to 2006.
"Loan pricing has become much more attractive compared to other markets like the bond market," said Phil Lipton, head of Asia-Pacific loan syndications at HSBC Holdings Plc in Hong Kong. "I think we will see certain borrowers take a closer look at the loan market."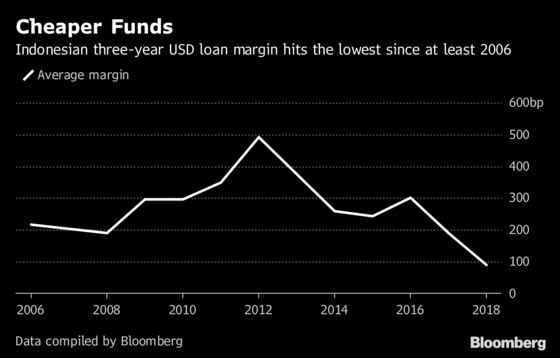 Lenders are betting that financially sound firms will weather broader concerns about Indonesia. The rupiah has plummeted about 7 percent this year against the dollar, making it the second worst performing major Asian currency and pushing up the cost to service foreign debts. The country's current-account deficit widened to a four-year high, and the central bank surprised most economists by raising its benchmark interest rate a fourth time since May on Wednesday.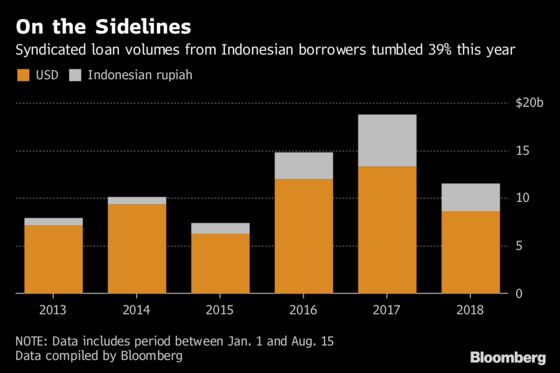 The bond market has registered misgivings about all that. Dollar-denominated notes sold by Indonesian companies have been among the hardest hit in Asia this year. A rally last month brought some relief but has fizzled, and wasn't enough to allow issuers to lock in more attractive bond financing costs, according to R. Lakshmanan, senior research analyst at CreditSights in Singapore.
Average yields on Indonesian dollar securities are up 136 basis points in 2018 at 5.8 percent, according to ICE BofAML index data. The fallout has been clear:
Property developer Intiland Development Tbk delayed its first dollar bond offering last week, and said it is considering syndicated loans
Garuda Indonesia Persero, the country's flag carrier, is seeking to raise $500 million from syndicated and bilateral loans after delaying global bond issuance of $750 million
Meanwhile, borrowers taking loans have won better terms:
Indonesia Eximbank recently increased its loan to $1.15 billion from $950 million after drawing 30 banks in syndication, even after tightening margins by as much as 55 basis points from two years ago
Indomobil Finance Indonesia and Astra Sedaya Finance each slashed margins on their three-year loans by 55 and 20 basis points from 2017
"There tends to be a flight to quality" amid bond market volatility, said Samuel Tan, co-head of loan syndication and distribution for United Overseas Bank in Singapore. "So banks, lenders and loan market participants would likely rather save their bullets to lend to top-tier names."