Dutch Job Squeeze Brings Perks for Workers as Companies Scramble
(Bloomberg) -- In Amsterdam's historic center where office space is scarce, employees at fintech company Ohpen enjoy playing pool in a spacious canteen and personal training sessions in an Olympic boxing ring in the basement gym.
That's because the main challenge for Ohpen, which develops banking software, isn't securing orders or raising venture capital, but attracting and retaining workers. Perks have been one response to a situation that's just getting tougher, says founder and chief executive Chris Zadeh, watching one of his 160 employees spar with a boxing instructor.
"Our colleagues receive calls and emails from recruiters all day long," Zadeh said in an interview. "This isn't limited to our IT people anymore, like in the past. A recruiter we once hired to find a marketing director for us, at the same time approached our finance guy for another client. We now do the hiring internally."
The hunt for human capital has become a top issue from Groningen in the north to Eindhoven in the south. It's forced major building projects to be put on hold, seen banks give up on spurring digitization with domestic talent and could crimp growth in what's been one of the euro region's best-performing economies recently.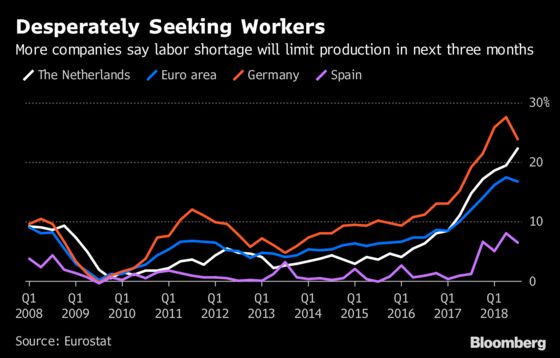 The Netherlands isn't alone. Neighboring Germany and some smaller euro-area countries, where solid economic growth has pushed unemployment well below the region's average, are also feeling the squeeze.
Scarce labor supply and stretched capacities have the European Central Bank's attention. Policy makers are counting on wage growth to fuel inflation as they scale back unprecedented monetary stimulus.
Dutch national statistics bureau CBS already labeled the Dutch labor market tight last year. Joblessness fell again in July, to just 3.8 percent, a level only bettered by Germany, based on figures from Eurostat.
Bloomberg Economics: Euro-area spare capacity is largely exhausted
More than one in five manufacturers say a shortage of workers is their biggest obstacle to production. That compares with less than 3 percent before the recovery took hold in 2014, when insufficient demand sapped output.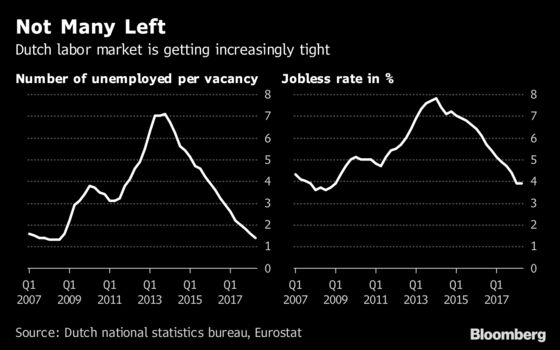 A construction project for 600 new homes urgently needed to ease Amsterdam's housing shortage was halted for eight months because of a lack of workers and material. ING Groep NV, one of the country's biggest employers in the private sector, hired IT staff in Romania, Poland and Spain because it couldn't find enough in the Netherlands.
Despite the squeeze, wages have been slow to pick up -- until now. Rabobank Groep predicts pay gains of 2.5 percent this year, far in excess of inflation. "Employees are getting the benefits of economic growth now," says Leontine Treur, senior economist at the Dutch bank.
In a further sign of workers' increased bargaining power, Treur points out that the number of strikes last year was the highest since 1999.
Offering higher salaries is an old strategy at Ohpen, where most employees are software developers. Zadeh estimates wages have risen roughly 30 percent in recent years: "This helps, but in the end, Ohpen is not going to win the pay rise competition with the Googles and Amazons."
Instead, he's offering his workers freedom -- to choose their office hours, work at one of the company's offices in Barcelona or London, and get in shape with a personal trainer while on the job. After one year, he raises the stakes, quite literally: He hands them a small share in the company, in the hope of tying them down.