California Fire Risk Won't Abate Until November, U.S. Warns
(Bloomberg) -- The fire risk across the U.S. West will stay high through October -- and for California it will last even longer.
Hot, dry conditions, including California's warmest month on record, have helped spur on 101 large fires across the U.S., consuming 1.8 million acres. Most of those blazes are in 12 western states, according to the National Interagency Fire Center in Boise, Idaho. Things won't get better for months.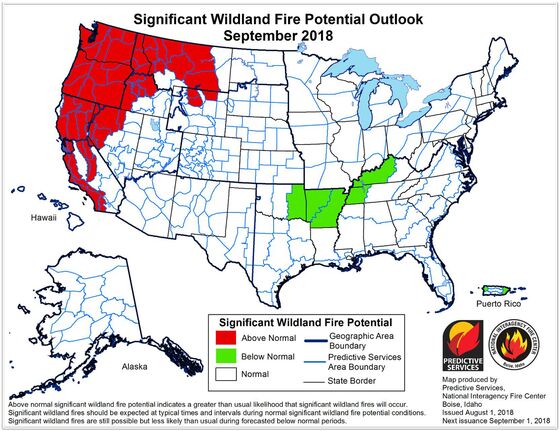 The arid Santa Ana winds that arrive in the fall will keep California in danger, probably into November, even as risk elsewhere fades, according to maps issued Thursday by Predictive Services, a committee of 10 members from federal wildland fire agencies. As of Aug. 12, almost 5,000 fires have consumed more than 955,000 acres across California, according to the state's Department of Forestry & Fire Protection, commonly known as Cal Fire. At least 11 have died in fires in 2018.
"As far as the outlook, Predictive Services continues to have high fire potential through October, except in California, especially southern California,'' Tim Brown, director of the Western Regional Climate Center said on call with reporters.
Brown said there's evidence that warmer world temperatures have made conditions worse. Globally, nighttime temperatures are rising faster than any other time of day and since 2000, they have gone up 1.3 degrees Fahrenheit (0.7 Celsius) per decade, outpacing the overall trend from 1895 to 2018 of 0.3 degrees every 10 years.
Cooler nighttime temperature raise humidity levels, allowing plants to pull in moisture. When this doesn't happen, fire intensity remains high, which can lead to longer lasting blazes producing more smoke, Brown said.
Dead plants and trees around the Mendocino complex fire, now the largest in the state's history, and the Carr fire, the eighth largest, are reaching record levels of dryness, he said.
While the hazards may stay high, it's hard to say if the blazes will continue through the fall because most fires are caused by people. What people do, Brown said, is the unpredictable element.