Arcane Spinoff Rule May Lift M&A Targets Like Yum China, Arconic
(Bloomberg) -- Deal stocks including Yum China Holdings Inc., Arconic Inc. and Conagra Brands Inc. may grow more valuable as autumn approaches, thanks to an esoteric tax rule governing recent spinoffs.
Acquisitions made within two years of a supposedly tax-free spinoff could retroactively morph the separation into a taxable event -- and force the acquirer to pick up the tab. To avoid this risk, most mergers and acquisitions involving recent spinoffs are conducted after their two-year anniversaries. Over the past decade, a majority of companies waited two years from their respective spinoffs to make deals, according to data compiled by Bloomberg.
Predicting takeouts among spinoffs is providing traders with more opportunities lately as the rate of spinoffs swells to the fastest since at least 2008 and spincos outperform the market. Other companies approaching two-year spinoff anniversaries this fall include Air Products & Chemicals Inc., Johnson Controls International Plc., Versum Materials Inc., Adient Plc and Donnelley Financial Solutions Inc.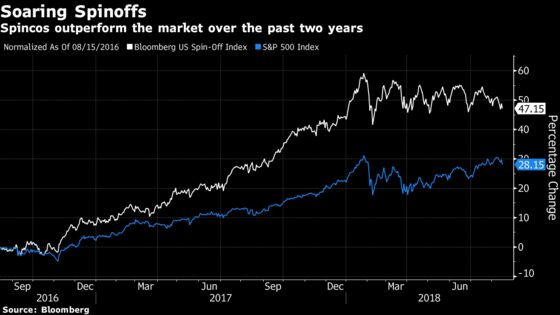 "The juiciest hunting grounds for takeouts are companies that are spinning off non-core assets, slimming down and running much better," said Jonathan Morgan, a deals analyst at The Edge Consulting Group. The firm's research shows that midcap stocks in particular have the highest hit rate for takeouts -- one in four parents of a spinoff are subsequently acquired after the separation.
Already, some stocks in this year's class are becoming the subject of M&A speculation. Hillhouse is reportedly in talks to acquire Yum China, while Arconic is reportedly weighing takeover approaches. ConAgra in June agreed to acquire Pinnacle Foods Inc. for $8.1 billion.
See also: Bloomberg's Spinoff Watch previews separations ahead of when-issued trading in the new stock
Takeouts within two years of a spinoff are presumed to be part of the separation plan until proven otherwise, Gibson Dunn & Crutcher LLP attorneys Steve Glover and Benjamin Rippeon said in an interview. While it's possible to avoid the taxes by proving a takeout wasn't planned in advance, that requires a more nuanced and fact-specific analysis which could ultimately have an unfavorable outcome. Industries experiencing heavy consolidation face the biggest risk, the lawyers said, because it's more likely that executives and advisers had previously discussed potential deals with each other.
The rule applies to both the parent and spinco in a given spinoff. While this two-year rule isn't the single-most important factor in planning a deal, Morgan at Edge Consulting said parents usually take about 26 months from a spinoff to be acquired, while spincos take about 30 months.