Air France-KLM's New CEO Faces Immediate Union Threat of Strike
(Bloomberg) -- Air France-KLM's new chief executive officer got a warning from one of the carrier's labor unions: Satisfy our pay demands or we'll walk off the job again.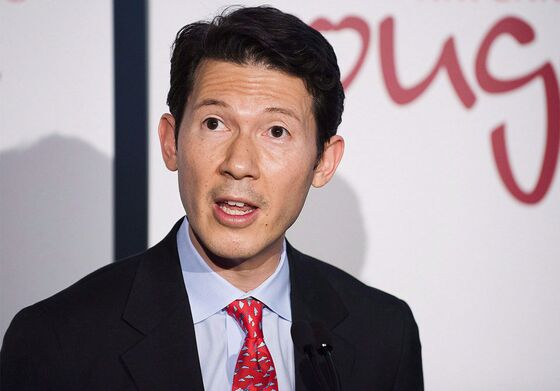 Ben Smith, Air Canada's operations chief, will take over as CEO by Sept. 30, the Paris-based airline said in a statement late Thursday. He succeeds Jean-Marc Janaillac, who quit this year after failing to end a series of crippling strikes at Air France-KLM. The airline said it would announce details "as soon as possible" on the post of nonexecutive chairman.
Smith will have to cut costs and improve operations in a competitive industry while trying to rein in disgruntled unions, all with the French state looking over his shoulder. The poisonous atmosphere should come as no surprise: In 2015, a protest of job cuts by Air France workers near Charles de Gaulle Airport ended up with two managers having their shirts ripped off as they were trying to escape. Janaillac staked his job on a staff vote on his plans -- and lost.
"We're still determined to succeed in our demands," Vincent Salles, a representative of the CGT union, said in an interview Friday on France Info radio. "Thus, yes, there's a strong risk of strikes if Ben Smith isn't capable of renewing a dialogue with the unions of Air France."
Until Smith takes over, Air France-KLM will retain the governance structure put in place after Janaillac's resignation. Nonexecutive Chairman Anne-Marie Couderc will keep her role in the interim period. In the statement, she called Smith "a man who prefers dialogue" who had "developed and implemented the historical long-term win-win agreements with the airline's social partners."
Air France shares fell 2 percent to 8.88 euros at 9:12 a.m. in Paris. They've lost 33 percent this year amid the labor strife.
"I am well aware of the competitive challenges the Air France-KLM Group is currently facing and I am convinced that the airlines' teams have all the strengths to succeed in the global airline market," Smith said in the statement.
Recruiting a foreign boss is "inconceivable," nine unions said before the airline's board met Thursday to select a new CEO. Labor groups will meet Aug. 27 to decide their next steps in a long-running dispute over pay that has led to 15 days of strikes and lost flights this year. The unions said they wanted "a responsible leader" steeped in the French model of workplace relations, as well as Air France-KLM's position versus European competitors.
Salles backed off the criticism of Smith's nationality in the radio interview, saying instead that workers are concerned the company will expand its low-cost operations, leading to lower pay for employees.
"He's here to make low cost a bigger part of Air France to the detriment of the main Air France unit, and put in place third-rate agreements that are going to worsen the work conditions and the salaries at Air France," Salles said.
They cited the administration of U.S. President Donald Trump as evidence of an "economic war" in which national interests are paramount. "Other countries and governments show fierce protectionism when it comes to their airline," they said. "How in this context, when we know the importance of the economic benefits of a carrier to the rest of society, can Air France be left in foreign hands?"
The unions also criticized the role of Delta Air Lines Inc., saying Smith's candidacy was "being pushed by a competing company." Atlanta-based Delta is an 8.8 percent shareholder in Air France-KLM and the two operate a revenue- and cost-sharing alliance on North Atlantic routes.
Smith's 19 years in the airline industry made him a legitimate choice to run Air France-KLM, a senior French government official said before the choice was made. The French state is the carrier's largest shareholder, with a 14 percent stake.
"Benjamin Smith is fully trusted by the state and Air France-KLM's main shareholder to re-establish social dialogues and pursue the great transformation work that will allow the group to meet the challenges of development, competitiveness and international competition," French Economy Minister Bruno Le Maire and Transport Minister Elisabeth Borne said in a joint statement.
While the appointment of a foreigner to run an airline might be controversial in France, it's by no means unusual elsewhere. IAG SA -- owner of Air France-KLM's archrival, British Airways -- is run by Irishman Willie Walsh. And U.K.-based EasyJet Plc, which has grabbed market share on short-haul routes, recently hired Swede Johan Lundgren as CEO.
Smith will need to oversee the possible sale of the French government's stake and repair relations with Dutch division KLM, which has never really formed a cohesive whole with Air France since their 2004 merger.
One of Smith's biggest assets from an Air France-KLM point of view is his success in labor talks at Air Canada. He was chief negotiator in the most recent wrangle with pilots and cabin crew, securing unprecedented 10-year deals with both groups. Janaillac, and before him Alexandre de Juniac, resisted demands for higher pay at Air France, prioritizing investment in planes to compete with Persian Gulf carriers and low-cost specialists in Europe.
Smith is no stranger to management-labor acrimony. He was chief operating officer in 2012 when Air Canada was hit by a series of disruptions as contract negotiations stalled with labor groups such as ground workers and pilots.
'Significant Contributions'
In March of that year, baggage handlers and ground workers staged an impromptu walkout that lasted 24 hours and led to more than 80 flights being canceled. A government arbitrator ordered an end to the strike. The next month, several pilots failed to show up for work on the same day in April, resulting in multiple flight cancellations.
A government arbitrator eventually sided with Air Canada in its dispute with the pilots, allowing the company to introduce cost-saving measures into the pension plans of new employees.
Smith will resign from his current post effective Aug. 31.
"I thank Ben for his significant contributions in many various roles at Air Canada over the past two decades," CEO Calin Rovinescu said in a statement. "Our deep and highly experienced leadership team will continue to deliver on our global ambitions, achieve our targets and drive our operational performance well into the future."