Turkey Reverts Back to 'Stealth' Tactics to Hike Borrowing Costs
(Bloomberg) -- The Turkish central bank is raising rates, helping to spur an almost 20 percent increase in the lira over the past three days. It's just not telling the world about it.
The policy maker hasn't offered commercial lenders one-week repo funding since Monday, forcing them to borrow from its more expensive overnight rate. That's driven average funding costs 17 basis points above the benchmark as of Wednesday.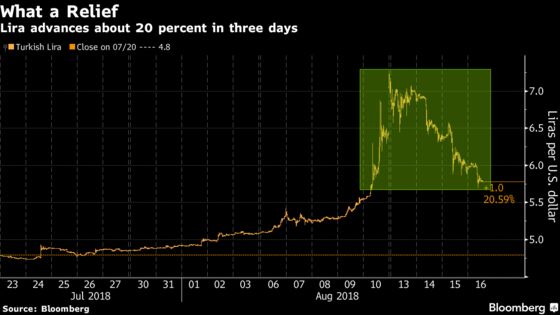 The central bank will probably continue squeezing liquidity until pressure on the lira eases "significantly," according to Erkin Isik, a strategist at Turk Ekonomi Bankasi AS. It can push funding costs to as high as 20.75 percent -- the rate used in its late-liquidity window -- without holding an interim meeting, he said. That would amount to a 300-basis-point increase.
The stealth tactic is spurring speculation that policy makers may be looking past pressure from President Recep Tayyip Erdogan and stand prepared to raise rates to stem a slide in the currency. The lira has trimmed its losses since a currency meltdown on Friday to less than 3 percent against the dollar as the nation's banking regulator also limited lenders' swap transactions in a bid to deter short-selling in the battered currency.
"We think it's positive that the central bank is finally using interest rate policy to react to the recent currency volatility," Isik said.
For others, the move is a sign the bank is backtracking on its pledge to simplify monetary policy. In May, amid a market rout that prompted the central bank to raise rates in an unscheduled meeting, it said it was doing away with a complicated multi-rate regime that allowed it to shift the cost of funding on a daily basis.
"The CBRT has resorted to its old solution: raise borrowing costs by stealth to avoid the wrath of the president," said Ziad Daoud, the chief economist for the Middle East at Bloomberg LP.