Nigeria CPI Dips to 2 1/2-Year Low; Food-Price Growth Slows
(Bloomberg) -- Nigerian inflation decelerated for an 18th straight month as food prices climbed at the slowest rate since March 2016.
The annual inflation rate dropped to 11.1 percent in July from 11.2 percent in June, the Abuja-based National Bureau of Statistics said on Twitter Wednesday, matching the median of estimates in a Bloomberg survey.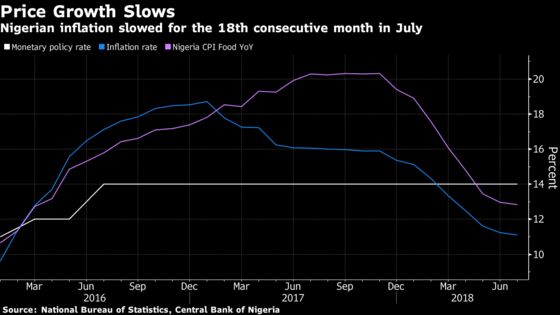 The slowdown in inflation could reverse in the second half of the year as the government releases funding for a 9.12 trillion-naira ($25.2 billion) budget, its biggest yet. Pre-election spending ahead of the February vote could also add to pricing pressures. That may move the central bank to start raising its key rate, which it has held at a record 14 percent for more than two years to tame double-digit inflation and support the currency of Africa's largest oil producer.
"We expect a flat-to-upward movement in August," Michael Famoroti, an economist at Vetiva Capital Management Ltd., said by email. 
While price growth has slowed, it remains outside the bank's target range of 6 percent to 9 percent.
The bank wants to keep inflation below the key rate and may tighten if price pressures build up, Deputy Governor Joseph Nnanna said in an interview last week. The Monetary Policy Committee has shifted from some members voting for rate cuts in January to three of 10 members present at the July meeting favoring a higher rate.
"The slight decrease in inflation suggests that inflation is bottoming out," Yvonne Mhango, an economist at Renaissance Capital in Johannesburg, said by email. "This explains the hawkish tone of the past couple of MPC statements."