Bank of Namibia Wants Growth But Asks Citizens to Be Thrifty
(Bloomberg) -- Namibia's central bank wants the economy to rebound from its first contraction in 14 years but has asked citizens to go easy when it comes to taking on new debt.
"If the economy starts to pick up, we wouldn't want to see consumer spending pick up," Governor Ipumbu Shiimi told reporters Wednesday in the capital, Windhoek. "The message to Namibians -- only borrow when you need to borrow."
The central bank held its benchmark rate at a 2016 low of 6.75 percent to support the economy, which shrank a revised 0.9 percent last year. Moody's Investors Service cut the nation's credit rating to junk a year ago, citing an increasing debt burden, the erosion of fiscal strength and the risk of renewed government liquidity pressures.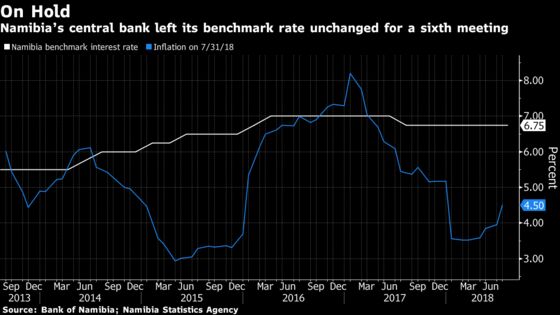 The economy of the world's biggest producer of marine diamonds is projected to expand 0.6 percent this year, Shiimi said. While inflation accelerated to 4.5 percent in July, the highest rate in 2018, price growth remains within "reasonable levels," and isn't a big concern, he said.
Namibia has a population of about 2.4 million people. Consumption spending by households accounted for almost 70 percent of gross domestic product last year, the bank said in its June 2018 quarterly bulletin.