Atlantia Said to Call Emergency Meeting on Genoa Bridge Disaster
(Bloomberg) -- Atlantia Spa's Autostrade arm will hold an emergency meeting as top executives come under pressure to quit after dozens died when an Italian bridge it operated collapsed, people with knowledge of the matter said.
The extraordinary board meeting is expected to be held next week to consider the impact of the disaster in Genoa, which killed at least 39 people. Directors of Atlantia, whose Chief Executive Officer Giovanni Castellucci has become a focus of anger over the tragedy, may also meet, according to the people, who asked not to be named as the plans aren't public.
Rome-based Atlantia declined to comment. Autostrade said Wednesday that checks on the bridge had been made by third parties on a quarterly basis and used to devise maintenance plans in line with legal requirements. The statement made no mention of calls for top management to stand down.
Rescuers are still searching through the wreckage in Genoa after a section of the 1,100-meter (3,600-foot) viaduct gave way following heavy rain on Tuesday. The road, which was built in the 1960s and sat on thin pylons as it crossed a river, railroad and buildings, was managed by the Autostrade per l'Italia SpA division of Atlantia, whose biggest investor is the Benetton family.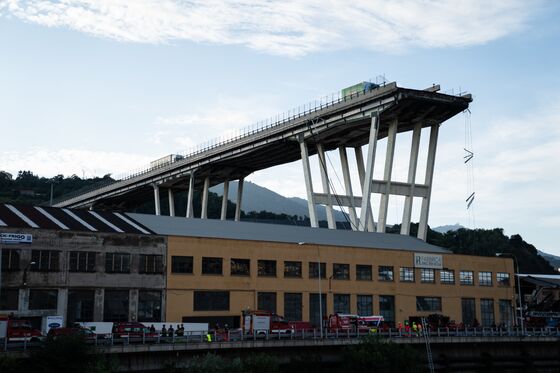 Transport Minister Danilo Toninelli said Wednesday that Autostrade's top managers should resign. He added in a Facebook post that given "serious breaches" the government has activated procedures for withdrawal of the company's concessions and the imposition of sanctions of up to 150 million euros ($170 million).
Similar calls for executives to step down and for the license to operate Italy's highways to be scrapped came from deputy premiers Luigi Di Maio and Matteo Salvini, who head the ruling coalition's partners Five Star Movement and League.